How To Build a Strategic Enrollment Management Plan
One of the biggest challenges of higher education is filling your institution's enrollment funnel. Attracting the right students and guiding them to matriculation can be difficult, but it's important to have an effective strategic enrollment plan in place to ensure your institution effectively accomplishes this goal. This article will cover:
What a strategic enrollment management plan is
10 steps to building a strategic enrollment management plan
What Is a Strategic Enrollment Management Plan?
A strategic enrollment plan is a comprehensive, forward-thinking, and holistic process that outlines the recruitment and retention of students. An effective approach benefits both the institution and students, providing value to prospective and current students while also fulfilling institutional goals.
To achieve this, an enrollment plan must be:
Proactive: Consider emerging trends in the industry, including the ebbs and flows of academic programs, geographic changes, and competitor offerings
Detailed: Include a detailed inbound methodology to increase qualified prospects and inquiries early in the enrollment funnel
Data driven: Utilize data to support financial, admission-based, and institutional decisions
Targeted: Attract the right students that are more likely to enroll, graduate, and engage in the alumni network by defining a clear target audience
How to Build a Strategic Enrollment Management Plan
If you're wondering how you can boost numbers and ensure these leads are nurtured throughout enrollment, here are 10 steps you should take to develop your strategic enrollment management plan:
1. Identify Realistic Institutional Goals
Like most enrollment initiatives, it's a good idea to start your plan by setting achievable enrollment goals. An excellent approach to goal-setting is creating SMART goals—Specific, Measurable, Attainable, Relevant, and Time-bound. This formula can help you set manageable and measurable goals.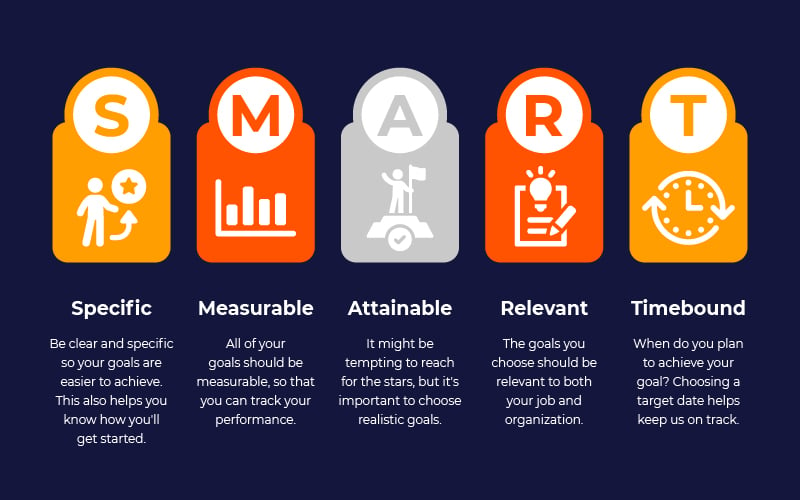 Once you've set your goals, it's important to track them. This involves setting and measuring key performance indicators (KPIs). Some KPIs you should consider tracking include:
Admissions
Website sessions
Conversions
Admissions inquiries
Click-through rate
Ultimately, it's important to evaluate your institution's specific objectives and set your KPIs based on those goals.
2. Identify a Targeted Persona
Student personas are an important part of an enrollment management plan. Who's the right student for your institution? What are the challenges and milestones these students face as a prospect, current student, or alumni of your institution? This can help you with the strategic direction of your enrollment marketing efforts, and guide your content, social media, and email campaigns.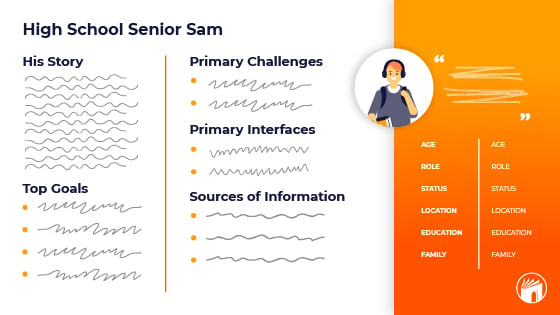 3. Identify Institutional Strengths
Evaluate your strengths and weaknesses to determine what your school offers that meets your persona's needs. What are your talking points? What value can you bring to prospective students, and what sets you apart from other institutions? If you're not able to quickly identify your strengths and communicate them clearly, you'll struggle when conveying your institution's value to prospective students. So it's critical to familiarize both yourself and your staff with the components of your institution that set it apart from competing schools.
4. Educate Prospect-Facing Staff
It's important to make sure your admissions and marketing teams are familiar with the core messaging of your institutional brand. This will help ensure consistent communication across enrollment channels, such as emails, admissions calls, and social media posts. This can be accomplished with clear documentation and training programs to help staff learn your institution's brand voice.
5. Establish an Inbound Communication Plan
An effective inbound marketing plan for higher education nurtures prospects through the stages of awareness, consideration, and decision. Craft communications and editorial calendars to track your content, social media, email marketing, and more.
6. Develop Conversion Opportunities
Student recruitment is one of the most challenging facets of enrollment management. The good news is that there are several opportunities to encourage conversions to capitalize on. These conversations help move enroll prospects further into the nurturing funnels. This includes:
Digital offerings, such as eBooks and landing pages
In-person and virtual events, like open houses and information sessions
Off-campus recruitment events, like high school visits and college fairs
7. Reinforce Brand Messaging
A common challenge of higher education is standing out in the midst of various messaging from outside institutions. Students often receive a plethora of college emails, some claiming to collect upwards of 100 emails per week advertising different institutions.
One great way to ensure students remember your messaging is establishing your brand voice and making sure it remains consistent throughout a student's journey. This helps solidify a new student's acclamation to your institution by helping them identify with your school's unique value—separate from competing institutions.
8. Create Opportunities and Experiences
It's important to focus on retaining your current student population as well as attracting new ones. Many times, institutions unknowingly neglect their enrolled students in blind pursuit of new ones. Effective student success is about creating opportunities for current students to fulfill the institution's mission and achieve both social and academic success.
If current students are succeeding, new students are more likely to be interested in your institution moving forward. Don't forget to focus on student experiences. These same students can help promote your school with positive word-of-mouth and ultimately attract prospective students.
9. Provide Ongoing Compassionate Support
College can be quite challenging for students. Make sure you support current students in all facets of their college experience. Your school should be an excellent resource for students in search of support or academic services. These programs promote the well-being of your current student body and contribute to more students completing the enrollment funnel.
10. Engage Alumni
As advocates and supporters of your institution, alumni are an incredibly valuable community for attracting new students. Therefore, it's important to create, or maintain, a solid alumni network. Consider capturing stories from former students and using this material to promote your school to prospective students. Word-of-mouth marketing is incredibly powerful for colleges.
In a study done by the U.S. Department of Education, students identified academic quality and reputation as the most important factors when selecting a college. In fact, 74% of students ranked these elements as very important. Family and friend recommendations were also rated highly, with 81% of students listing it as at least somewhat important, and 24% as very important.
Your alumni network can help improve your school's reputation. If they had a positive experience, they're more likely to recommend your institution to others.
Become an Enrollment Management Pro
Enrollment management can be an arduous process, but the good news is there are students already searching for your institution. The unfortunate reality is that some prospective students who would receive the most value from your college or university might never discover it. The purpose of your strategic enrollment management plan is to bridge the gap between your institution and those students who are searching for you.
Focusing on inbound enrollment will connect your institution with your ideal students, promoting long-term enrollment growth and helping achieve your school's strategic goals. Request a free consultation with our partners at Pepperland Marketing to learn more about inbound enrollment and the role that Pepperland can play in helping you reach your goals.