How To Build an Inbound Enrollment Marketing Plan for Higher Education
An inbound marketing plan is key to any successful higher education campaign. Your plan will inform your higher ed marketing strategy. An effective plan will provide value to prospective students and help them decide whether your school is right for them.
In building your inbound marketing plan, it's important to think about the different tasks/purposes you need it to serve. These can typically be broken out into the buckets of:
Attract
Convert
Close
Delight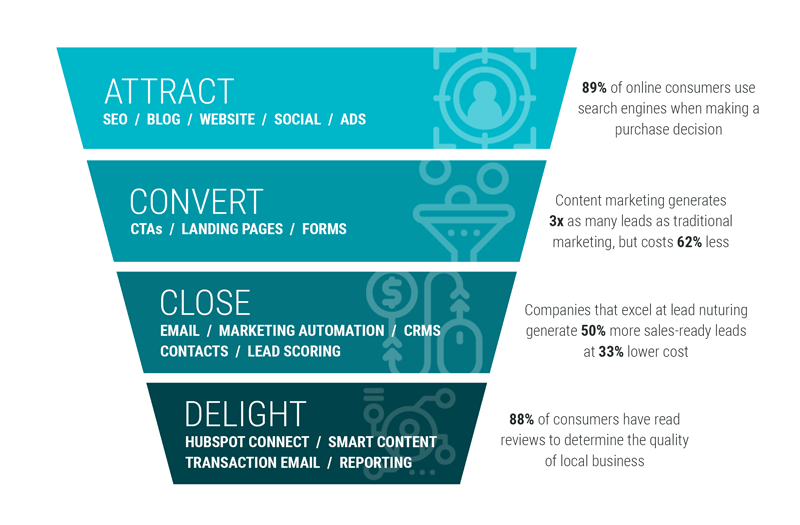 Your ultimate goal is to guide your prospective students through the inbound process to matriculation.
Attract
To begin your higher ed inbound marketing plan, you will need to figure out how to attract students to your website and program. In order to accomplish this, you need to make sure that you have a solid understanding of your target audience and how your educational institution can meet their needs.
1. Compile student personas.
The first step in the "attract" phase of your inbound marketing plan is to begin to compile your student personas. A student persona is a semi-fictional representation of your ideal student. Your student personas will serve as the foundation of your inbound marketing efforts and will guide the rest of your marketing efforts along the way. Your student personas should include pertinent information such as:
A brief description of the student's background and journey
Demographic information such as age, location, education, etc.
Some of the student's goals and challenges
A list of your student's primary interfaces (who do they consult when making important decisions?)
Keep in mind that creating student personas is not simply a game of make-believe. Your personas should be backed by extensive research and should represent a real population of students who you want attending your school.
The act of compiling your student personas will inform virtually every other aspect of your inbound marketing plan, so it's important to give it the time that it deserves.
2. Map out your student journey.
The student journey is the process that each prospective student goes through when making a college decision. The student journey consists of three stages:
The Awareness Stage: The student recognizes their educational needs and is seeking content to help them understand what they want in a school.
The Consideration Stage: The student understands their needs and is actively seeking out higher education opportunities.
The Decision Stage: The student is ready to make a decision about which school they want to attend.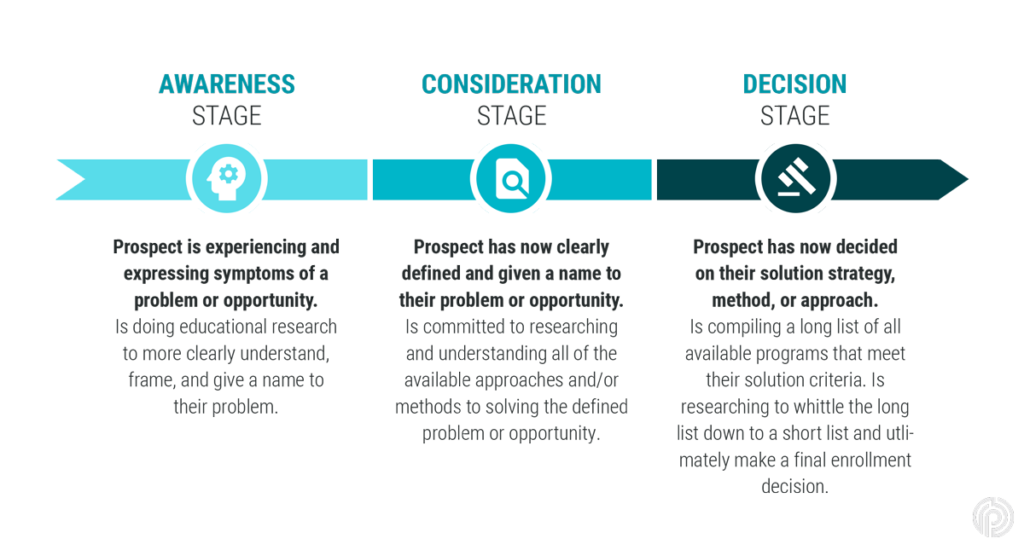 Guiding your prospective students through the student journey is key to building a successful inbound marketing plan, so it is important to make sure that you have considered all the important factors. It is crucial to understand the problems that your students may be facing and how you can provide the solution to those problems. Understanding your prospective students' common pain points and your competition will be key in developing your marketing plan.
3. Determine your marketing goals.
Once you have completed the buyer personas and mapped out your student journey, it is time to start determining your marketing goals. It is important to make sure that your goals are SMART, meaning that they must be Specific, Measurable, Attainable, Relevant, and Time-bound.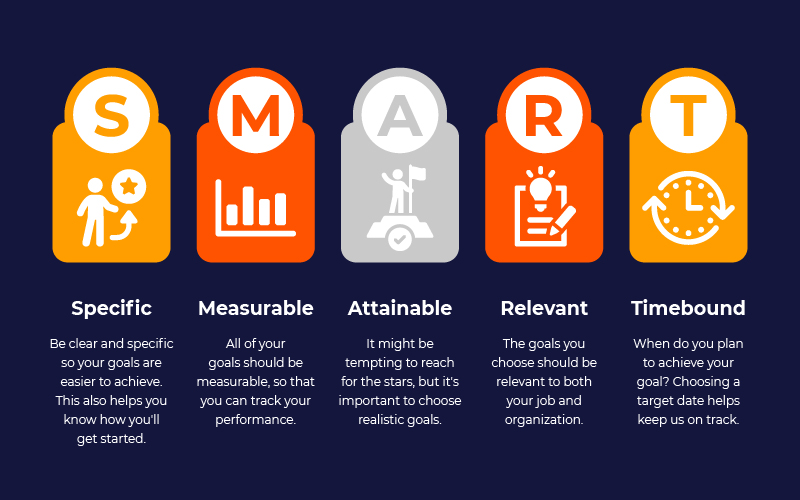 Your goals should clearly communicate your objectives and give your team a solid understanding of what specifically needs to be done, how it will be accomplished, when it needs to be completed, and how success will be measured. Once your goals are set, your team should have a clear understanding of what needs to happen in order to achieve them.
4. Determine your marketing channels.
In keeping with your marketing goals, determine which marketing channels will best suit your school's needs.
For example, if your goal is to increase engagement you may want to focus on channels such as social media, brand ambassador programs, and alumni surveys. Social media is also an excellent channel for enrollment campaigns, as 58% of students research schools they are interested in on social media.
Do some research and try to determine which channels are best suited for your SMART goals.
5. Create a content plan.
Content marketing is a big part of what makes inbound marketing work, so it's essential that you have a content plan in mind as a part of your efforts.
You should have already compiled your student personas and mapped out the student journey. Those two tools should now be used to guide your content strategy.
Your blog posts should be targeted towards a specific persona and informed by thorough keyword research. Creating editorial guidelines and an editorial mission statement will help ensure clarity and continuity across your school's blog. Your content plan should also be organized with an editorial calendar to help you schedule and plan out your content.
Convert
Once you have piqued the interest of your prospective students, your next step is to try and convert those students from anonymous website visitors into qualified leads. The convert stage of the inbound methodology is applicable to prospective students who have just entered into the consideration stage of the student journey.
1. Create relevant CTAs.
One of the best ways to turn prospects into leads is by providing them with relevant and effective call-to-actions (CTAs). CTAs are calls for your visitors to take a certain action, such as downloading a form or visiting a landing page, often in the form of a button or image. CTAs can help you obtain the contact information of prospective students and help you to segment your leads based on their interests. Some offerings that your CTAs can point to include:
Forms
Guides
Newsletters
Contact Information
Ebooks
Content on your website
Landing pages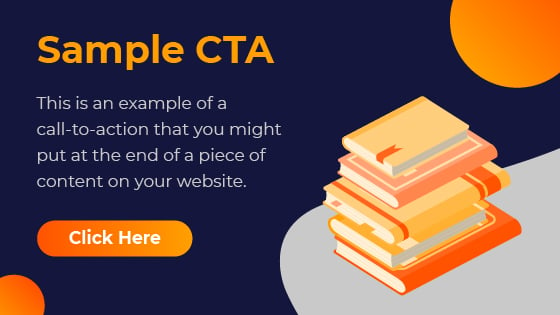 In order to create an effective CTA, you need to pay attention to several details. For example, you will want to ensure that your CTA is clear, concise, and placed in a strategic location. It is important that you are able to trace metrics such as how many people who visit your page are clicking on your CTA and the journey they took to arrive at that page.
2. Optimize your landing pages.
You want to make certain that the potential students who visit your landing page are within the target audience that you specified for the page; however, it is also important that when these students visit the landing page they immediately understand the relevance of your offering. It is therefore vital that you clearly communicate your landing page's value proposition at the front and center of the page.
3. Connect with prospective students.
When building your inbound marketing plan, it can be very easy to get bogged down with numbers and statistics. It is very important to avoid marketing to a number rather than a human. Always refer back to your student personas and use them as a guide to direct your conversations with prospective students. Two important ways to connect with your leads include:
Email marketing: Email marketing is one of the most effective marketing channels. Make sure that your emails are relevant, personalized, and properly scheduled. Creating an email marketing calendar is key to organizing your email campaign.
Social media marketing: Social media can be an excellent marketing tool to convert your visitors into leads. Your posts can provide information about the school, and you can incorporate CTAs into your posts that build your list of leads. You can also use social media listening to discover what people are saying about your school.
Close
As your target audience moves through the consideration stage of the student journey, your focus should be on continuing to nurture the relationship you have established with them and turning them from leads into inquiries and applicants.
1. Segment your audiences.
If your email marketing campaign is targeted towards high school students who have recently graduated, you will likely not be well served by sending them an email targeted towards parents. Segmenting your audience is an excellent way to stay organized and ensure that your emails are reaching the right students. Your student personas can serve as an excellent starting point for the segmentation of your audience. Remember that your personas are representative of your ideal students, so segmenting your emails based on what will be relevant to each persona will translate well into your email campaigns for prospective students.
2. Email nurturing.
Your email campaign is an excellent way to guide your prospective students through each stage of the student journey and move them from vaguely interested to applicants.
There are three primary approaches to lead nurturing in an email marketing campaign.
Triggered Campaigns: These campaigns are triggered by an action that your prospective student takes on your website, such as downloading an ebook or requesting information on your website.
Drip Campaigns: Just because a student does not express immense interest in your program upon first impression does not mean that you cannot continue to nurture your relationship with them. Drip campaigns focus on continuing to connect with potential students who are not actively engaging with your school by sending them relevant emails at regular intervals. It is important to balance your campaign so that you don't bombard your students with so many emails that they get frustrated while also keeping yourself at the forefront of their minds.
On-on-one Campaigns: These emails are well-suited for students who have demonstrated themselves to be highly qualified and interested in your school. The purpose of this campaign is to further the relationship between your school and your prospective students by continuing to provide them with content that is valuable to them.
Remember that the primary purpose of your email marketing campaign is to provide value for your students. Your campaign should therefore reflect that goal.
Delight
The final component of an inbound marketing plan reflects the decision stage of the student journey. At this point, the student has applied to your school, been accepted, and is now ready to make a final decision. Your inbound marketing plan should therefore push the applicant over the edge to matriculate. Once matriculated, continue communicating to ensure they are delighted with their decision.
1. Continue to nurture & personalize your emails.
It is important to continue the conversation you have begun with your prospective students. Your emails to the student should become increasingly personalized as you seek to help the student finalize their decision. One-on-one campaigns should be used during this stage of the process to address the specific needs of your students.
2. Deliver on your promises.
Throughout the enrollment process, you need to ensure that you keep every promise you have made to your prospective student. It is important to remember that just because a student has applied to your school and been accepted does not mean that the student has locked in their decision. Make sure that you are available to answer any questions the student may have during the process
Putting It All Together
Make sure that your inbound marketing plan remains organized. It is a good idea to consult with your marketing team regularly to keep everyone on the same page and see if they have any feedback to offer. Staying updated on the latest higher ed marketing information will play a critical role in your campaign as marketing is continuously changing. Subscribe to the Enrollment Marketer newsletter to receive helpful articles and resources right in your inbox that will help you learn about and stay on top of the world of enrollment management and marketing.