How to Host a Virtual Open House for Your School
If you work in an admissions, enrollment, or communications capacity at a private or independent K-12 school, then you know more than anyone just how disruptive the pandemic has been.
Note: This article was originally published on the Pepperland Marketing Blog, and has been republished here with permission.
Not only did your school need to shift rapidly to distance learning this spring and build a host of contingency plans for the fall, but the typical events that you would normally host to attract new parents and families have been canceled due to the risk of viral infection.
In-person open houses, in particular, likely formed a central piece of your enrollment strategy. It only makes sense: An open house gives you the opportunity to bring parents and students into your school and onto your campus, where you can begin building trust and nurturing them towards submitting an application. With this key piece of the puzzle now missing, it's easy to feel uncertain and worried about how you will fill open seats in your school.
Our answer: Hosting a virtual open house.
By rethinking what it means to host an open house for your school, you can attract right-fit, mission-appropriate families and fill any gaps that still exist for the fall.
What is a virtual open house?
A virtual open house is exactly what it sounds like: An open house that a school hosts remotely, virtually, via some sort of video conferencing software.
The term can also apply to other types of school enrollment events, such as question and answer sessions, drop-ins, walk-ins, and more.
In lieu of an in-person open house, a virtual open house gives enrollment and admissions professionals at a school the opportunity to connect with families who are actively considering the school. Making this connection allows the family to put a name, face, and voice to the school, which makes it easier for the school to build a trusting relationship that they can leverage throughout the admissions process.
While virtual open houses have proven to be essential during the coronavirus pandemic, there is likely to be a case for them even after the risk of viral transmission has passed. Families who cannot attend an in-person event due to work obligations, as well as individuals who are moving to a new school district but who are not yet local, can find virtual events particularly helpful.
What You'll Need to Host a Virtual Open House
Are you interested in setting up a virtual open house for your school? Before you begin working through the steps that we outline below, you'll need to make sure that you have a access to a few things:
A platform for virtual communication: This is the platform over which the virtual open house will take place. We recommend Zoom, because the platform is exceptionally easy to use, integrates with many other tools, and allows you to adjust the virtual experience so that it matches your school branding. That being said, other solutions such as Skype or GoToMeeting can also work well.
A platform for creating registration pages and forms: The whole point of hosting a virtual open house is to collect the contact information for families who are considering your school. To do this, you will need a platform that allows you to build a branded landing page designed to promote the event and encourage registration, which would contain an embedded registration form. We recommend HubSpot for this purpose (and explain why below).
A platform for email communication: Once you've captured the contact information for interested families, you can begin marketing to them by email. Again, we recommend HubSpot for this functionality.
A Facebook Business Profile: This will allow you to run ads on Facebook and Instagram, which will prove an important part of getting interested families to sign up for your open house.
The Tactical, Step-by-Step Guide to Hosting a Virtual Open House for Your School
1. Determine the format for your event.
A virtual open house can take multiple different forms, each of which is likely suited to parents in different stages of their school selection process. Your first step is to determine the format that your event will follow, so that you can craft language speaking to that format.
Some examples of formats you might consider include:
A simple Q&A session where attendees can ask questions of the admissions counselor, students, or faculty
A slide-deck based discussion or presentation
A virtual tour of your school and campus
You might even decide that you want to include multiple types of these events so that you're sure you've answered all possible questions that prospective families might have.
Additionally, you will need to decide who on your team will be involved in the open house. Will it be admissions counselors? Members of the communications team? The principal or head of school? Teachers? You'll need these details before getting started.
2. Determine your schedule.
In order to effectively promote your event and build all of the back-end assets that you will need to build, you'll need to settle your schedule. Pick dates and times for each of the virtual open houses that you intend to host, and then go ahead and schedule them in whatever tool you will be using to host the event (for example, Zoom).
Not sure when to host your events? We recommend that you offer a range of times and days of the week so that parents will have multiple options to fit in their schedule.
You might, for example, offer one event during the day so that parents who work at night can attend, and one event at night so that parents who work during the day can attend. You might also offer an event during the week and a second on the weekend, again to ensure that everyone who wants to attend has the opportunity.
3. Build the conversion funnel.
The conversion funnel is the full list of assets that a prospective parent or family will interact with as they decide to sign up for your virtual open house. The most important components of it are your form, your landing page, your thank you page, and your calls-to-action (CTAs).
Building the Form
Forms are how you will capture the contact information of all attendees, which you will need to have if you plan to follow up with or market to those individuals. At a bare minimum, your form should ask for the attendees name, email address, and phone number, but it may also make sense to ask for other pertinent information, such as:
Their child's name
Their child's current grade
The name of their child's current school
Any questions the attendee may have
If you will be offering multiple events, your form should also prompt the attendee to select the event that they wish to attend. This will allow you to have a single form and a single landing page for multiple events—and who doesn't love efficiency?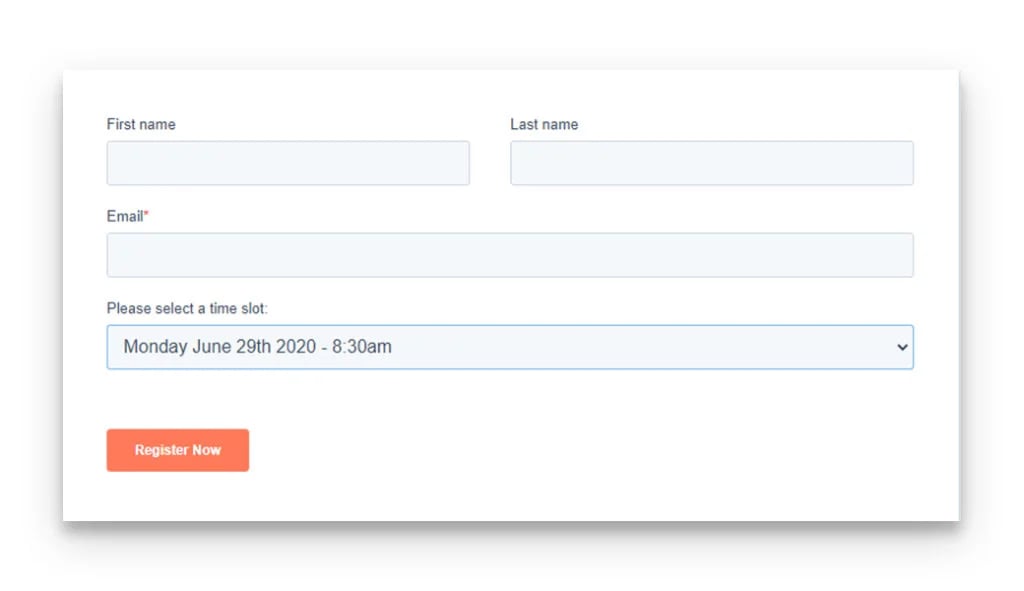 Whichever tool you use, we recommend using a form that will enable you to a.) trigger an automatically sent confirmation email to the registrant and b.) redirect the registrant to a confirmation page that thanks them for their interest, and directs them to additional resources to explore. If your current CMS platform does not include this capability, adding a solution like HubSpot's free Form Builder may make a lot of sense.
Designing Your Landing Page
Your landing page should be designed with a single goal in mind: To convince your reader to take the desired next step. In this case, you want them to fill out the form and sign up to attend your virtual open house.
To do that, your landing page should very quickly introduce the open house and explain the value that the person will receive by attending. You can also spend just a little bit of time educating them about your school and community. It should then include all pertinent details and the form. Bonus points for including aspirational images of your happy students learning, which can go a long way in helping the reader build an emotional connection to your school.
Key components:
A value proposition
Details about your event
Details about your school and community
The form
It's important to note that your landing page should be very focused. It should have just one call-to-action: To sign up for your virtual open house. Including multiple CTAs will only dilute your messaging.
Adding Value With a Thank You Page
Upon submitting the form, the reader will either receive an inline thank you message (as in, they see the message on the screen confirming that they have submitted the form) or they will be redirected to a thank you page. While not necessary per se, we always recommend that you opt for the thank you page route.
Why? Because a thank you page adds immediate value to the user, and gives you the opportunity to nurture them further along the journey.
In the case of a virtual open house, the thank you page should at a minimum include details about when the event will take place and how the user can log in. But you can add more value by including a link to download a brochure about your school, or a page about financial aid, or any other assets that you have that might be valuable. If you have an active blog, you can include links to that content. And, of course, you can include a call-to-action to apply, so that anyone who is ready to do so can take that next step.
Building CTAs
Once you have everything else built, you should also design and build a series of calls-to-action that you can leverage throughout your website. These CTAs should lead anyone who clicks on them to the landing page, where they can sign up for your event.
4. Write lead nurturing emails leading up to the event.
Have you ever had somebody make an appointment to talk, only for them to fail to show up? Whether it's because they forgot, because they lost interest, because they suddenly got busy, or for a range of other reasons, it happens more often than you might think.
The good news is that you can use email to reduce the risk of someone signing up for your virtual open house and then not attending. A simple series of emails can be an incredibly effective way of a.) reminding the person of the event and b.) getting them excited about your school and community.
At a minimum, you should send the attendee two emails:
One email immediately after they've signed up, confirming the details of the open house and providing dial-in information
One email the day before (or morning of) the event reminding them about it
In between those two emails, though, you may consider one or two messages speaking about your students and school community, or answering common questions that parents often have.
5. Attract families into your funnel.
After the event is scheduled and the funnel is built, you will need to fill that funnel by attracting right-fit families to sign up for the event. The calls-to-action mentioned above are one important way that you can capture people who are already on your website. But what about those who may not be actively considering your school, or those who may not have even thought about changing schools?
So long as your school has Facebook Business Profile, you have the ability to run ads on Facebook and Instagram. This can be a highly effective way of filling your funnel, especially if you are careful in designing your targeted audience.
If you've gone through the process of building detailed parent or student personas, then you likely have a good sense of what your ideal family looks like. Armed with this information, you may, for example, target individuals who are a certain age and who live in a certain zip code. Those individuals are the ones who would then see your ads.
You may even be able to upload a list of contacts from your database to target those individuals, under certain circumstances.
You might also consider running paid search ads in Google to attract families actively engaged in the search.

6. Host a test-run for your event.
This probably goes without saying, but we're still going to say it: Before you try hosting your first virtual open house, you should conduct a test-run involving your faculty and staff so that you can identify any problems and resolve them before the actual event.
Have a member of your team walk through the process from start to finish, beginning with the landing page and submitting the form. Then, actually host the event as you intend to on game day. This will help you understand the software controls that you may need to tinker with, and can even give you time to fix any audio or video issues that you may not have considered.
7. Host the actual event.
And have a good time while doing it! Your virtual open house really is no different from an in-person event—it's just being conducted via video. If you're hosting multiple events, try to learn from each one that you do so that you can be continuously developing.
8. Don't forget about followup.
Once you've completed your virtual open house, it's easy to think that your job is done. After all, interested families will take the next step and apply on their own, right?
The truth is, now that you've got their contact information and know that they are at least somewhat interested in your school, you can and should continue to market to them and nurture them along towards applying and, ultimately, enrolling in your school.
One simple way to do this is to send them a series of branded emails that answer common questions that you know parents have about the application process. You might also send them information about financial aid, important deadlines, profiles of current students, or other messaging that highlights what makes your school unique. This can be done in a personalized yet entirely automated fashion with a platform like HubSpot, limiting the burden on your team.
Direct, personalized phone outreach from your admissions team certainly couldn't hurt either. Consider calling to confirm they didn't have any questions, and to learn what they thought of the event. A personal 1-1 email could also be sent as a follow-up.
Making It Happen
Clearly, pulling off an effective virtual open house requires juggling a lot of moving pieces. If you're using multiple different systems and tools to manage your database, build your funnel, and coordinate your outreach, it's understandable that you might feel overwhelmed. The good news is that you can make the task (and your life) a lot easier by implementing a single, integrated tool capable of performing all of these steps.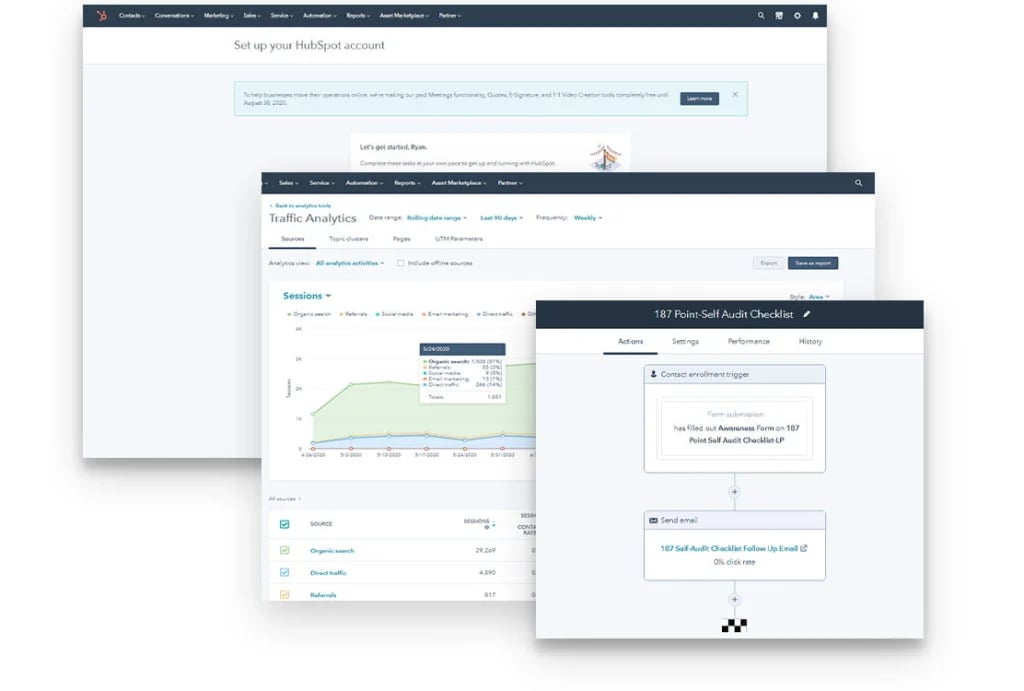 The tool we recommend is HubSpot, which you can use to:
Manage your database of contacts and leads
Build forms for lead capture throughout your funnel
Design and build highly-converting landing pages, thank you pages, and CTAs
Create and send marketing and lead nurturing emails
Manage your Facebook and Instagram Ads
Conduct real-time analysis of all of your marketing efforts to see what's working
And more
Because HubSpot integrates with Zoom, the tool is especially helpful for anyone who is considering virtual open houses, webinars, or other remote events.
Best of all, by using email workflows and sequences, it's possible to automate much of the back-end communication, meaning that even if you're a one-person enrollment or communications team, you can feel confident in your ability to pull off a virtual open house.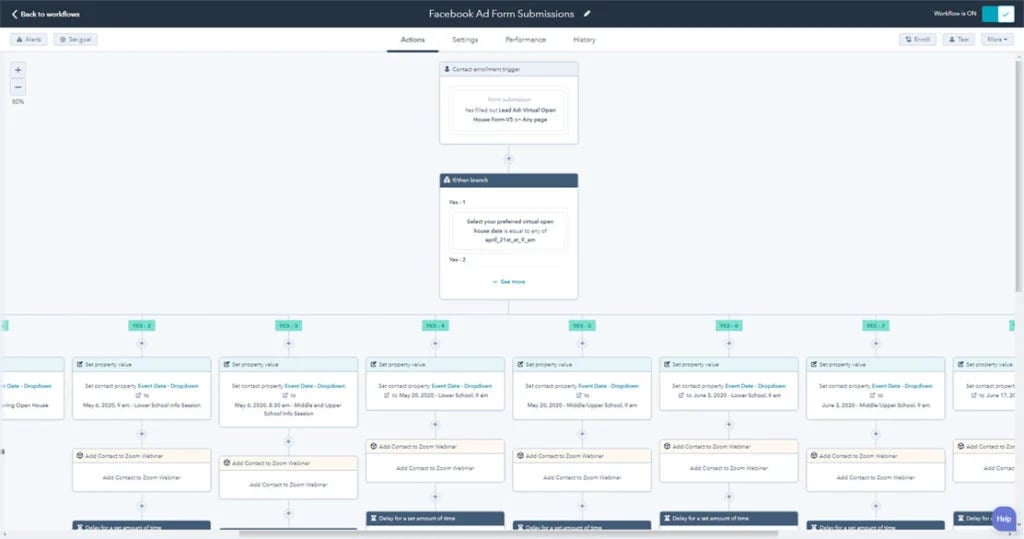 Preparing Your School for the Future of Enrollment
While a virtual open house will never fully replace the value that a prospective parent or student receives by actually visiting your school and seeing it in-person, embracing them and other virtual admissions events is a critical piece of hitting your enrollment goals in 2020 and beyond.
Even after the pandemic has ended and things go back to "normal," it's likely that some parents or families may prefer a virtual event, having grown accustomed to them. Laying the groundwork now can help you meet that future demand and set your school apart from others in your area.
It may seem overwhelming, but you can do it—so long as you have the courage to try something new and a plan to make it happen.
Subscribe to the Enrollment Marketer newsletter to receive helpful articles and resources right in your inbox that will help you learn about and stay on top of the world of enrollment management and marketing.