3 Key Elements of a Successful Enrollment Marketing Plan
Creating an enrollment marketing plan is the first step toward launching a successful inbound marketing campaign for your college or university.
Note: This article was originally published on the Pepperland Marketing Blog, and has been republished here with permission.
Let's explore three key components of an effective enrollment marketing plan, including:
Your target audience, including student personas and journey maps
Goals for each stage of the enrollment funnel
The specific enrollment marketing strategies you plan to pursue
For any organization, a marketing plan is an essential document which allows your team to set goals, organize the outputs you plan to deliver, guide execution, and measure progress. It also allows you to coordinate with other teams in your organization in order to take a more holistic approach to delivering your overall message.
For colleges and universities specifically, a marketing plan outlines the specific actions that will be taken to reach enrollment goals for a given period of time. To create a successful enrollment marketing plan requires thorough analysis and planning to ensure that it is actionable and attainable—and that it will effectively drive your enrollment funnel.
Key Aspects of a College or University Marketing Plan
Hitting your enrollment goals is critical to your college or university's overall success. But, as with any initiatives or objectives, reaching those goals requires a thorough plan of action. So, what exactly goes into an enrollment marketing plan? Below are three aspects that are key to launching a successful marketing plan for your higher education institution.
1. Target Audience
The first key element of your enrollment marketing plan is a thorough analysis of your target audience. This will frame the strategies you ultimately decide to pursue as well as provide the necessary context to devise a plan that is appealing to your target audience.
A great way to organize this information is to create student personas—semi-fictionalized representations of your ideal students.
Each persona should represent a segment of prospective students who share similar traits, aspirations, challenges, and other key factors that influence their decision-making process. Some examples of college student personas you might develop include first-year undergraduates, graduate students, international students, non-traditional students, and more. Depending on your enrollment goals, these personas may be program-specific or more general.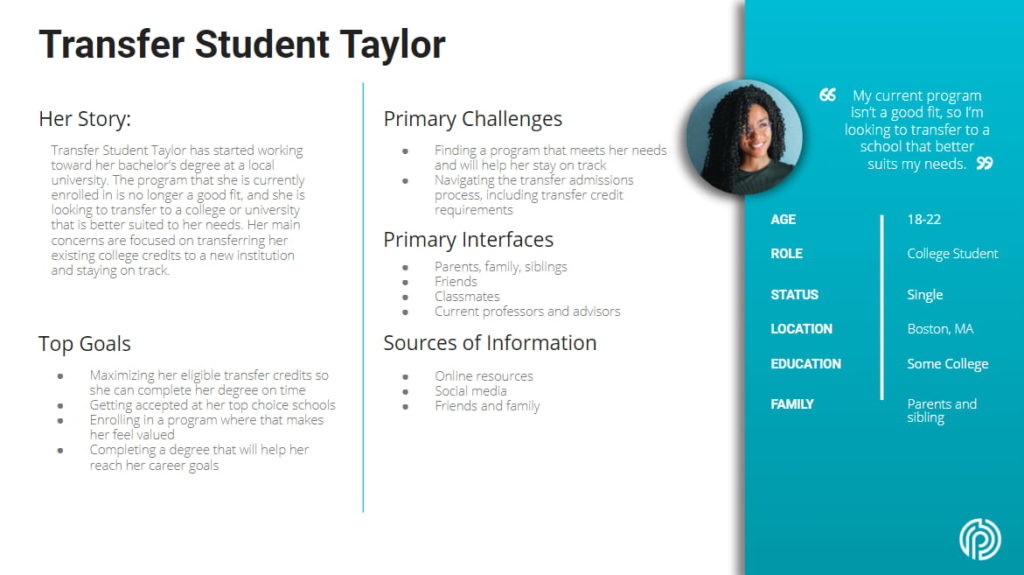 To create new student personas or refine existing ones, start by evaluating the data you already have access to in order to identify patterns. Then, consider conducting student persona interviews with prospective, current, former, and non-students (and others) to learn more about what shaped their decision.
In addition to researching and developing your student personas, conducting a student journey mapping exercise can help you better understand your audience. The student journey will detail the process that prospective students take to become aware of your college or university, consider their options, apply to a program, and enroll in classes. Mapping the journey allows you to evaluate each touchpoint between prospective students and your institution so that you can fine-tune your messaging to appeal to your audience at a given point in time.
Taking the time to analyze and clearly define your target audience is critical to crafting an effective enrollment marketing plan for your college or university. Your analysis will likely provide clues for how to best reach your ideal students and build relationships with them.
For instance, you might find that those interested in graduate degree programs are motivated to advance their careers and are most likely to engage with content that relates to that goal. On the other hand, you may discover that first-time undergraduate students are most concerned about financial aid options and are actively seeking content that answers their questions.
2. Goals
Once you have thoroughly analyzed your target audience, it's time to outline your goals.
Although you likely already have a firm goal set for the number of applications and enrolled students you need to acquire for a given enrollment period, there are other important metrics that you should be aware of. It's also essential that the goals you set for yourself and your team are SMART goals, meaning that they are Specific, Measurable, Attainable, Relevant, and Time-based.
To break your enrollment goals into more attainable bite-sized pieces, define a goal for each stage of the enrollment funnel. Ask yourself: If I need X number of enrolled students to reach my overall goals, how many applicants, inquiries, and prospects do I need to get there?
Breaking it down in this way helps you paint a clearer picture of the progress you'll need to make. It also gives you an idea of the specific marketing activities you'll need to invest your resources in to contribute to your broader objectives.
Some examples of SMART goals could include:
Increase the number of inquiries for the bachelor's in psychology program by 15% for the 2021-2022 academic year.
Increase traffic to the blog by 20% by the end of 2021.
Increase the inquiry to applicant conversion rate by 5% for the 2021-2022 academic year.
As you analyze your current performance at each stage of the enrollment funnel, you will also be able to identify any gaps that exist, helping you pinpoint areas in need of improvement. During this process, don't forget to set benchmarks of your current performance so that you can measure your progress over time.
3. Strategies
With an analysis of your target audience and clearly defined goals in hand, you'll then need to outline the enrollment marketing strategies you plan to implement to engage that audience and achieve your goals. This section of your enrollment marketing plan should articulate the different marketing channels you plan to use, how you will use them, and how they will contribute to your goals.
For example, you may choose to focus your efforts on content marketing in the form of blogging to grow traffic to your website and increase inquiries. Within your enrollment marketing plan, you'll want to specify how many blog posts you plan to write, what topics they will cover, which programs they will support (if applicable), and so on. This will then form the basis of a long-term content plan which can be used as a roadmap to guide your content efforts over time.
You might also consider devising a strategy to help your team identify stealth applicants—those who first recorded interaction with a school is an application submission—sooner. A simple method for doing so includes developing free downloadable offers which require the user to complete a form, thus allowing you to capture their information. Resources like career guides, infographics, and worksheets that answer common awareness or consideration stage questions or provide value in some way are typically most effective.
If you do decide to pursue a similar strategy, be sure to detail the number of offers you plan to develop, the topics they will cover, the associated conversion funnels, etc. in your enrollment marketing plan.
No matter which marketing strategies you choose to include, make sure that this section of your enrollment marketing plan is thorough and specific. If done well, you and your team will be able to use this document to guide your initiatives over the course of the year.
Planning for Success
Once you've created your marketing plan, including a thorough analysis of your target audience, specific goals, and detailed strategies to meet those goals, you'll be prepared to execute your initiatives over the period that the plan covers. Ideally this plan will act as a roadmap, allowing your team to organize their activities around common goals, as well as provide transparency between your team and other key stakeholders at your organization.
As you put your plan into action, be sure to revisit it often so you can keep track of your progress toward goals. If over time you find that your plan isn't performing as you expected it to, take the opportunity to diagnose the issue and adjust accordingly.