How Much Can You Make as an Enrollment Manager?
Although several factors come into consideration when searching for a job, the most important for the majority of candidates is the compensation. The world of higher education is no different. If you are looking for work as an enrollment manager, one of your top questions is probably "how much money can I make in this position?"
This article will cover:
What is an enrollment manager?
Average salary of enrollment managers
Important compensation considerations
What is an Enrollment Manager?
An enrollment manager oversees the enrollment process, helping guide students through the enrollment funnel to matriculation. Common tasks include:
Managing the admissions process, tracking students from prospective students to enrolled students.
Overseeing the enrollment marketing process in order to attract students to the institution.
Guiding the university's retention efforts to ensure that students continue to re-enroll.
Conducting research on factors that impact the school's enrollment, retention, and marketing efforts.
Collaborating with the admissions and marketing departments to increase the school's enrollment.
Developing clear communication of a school's value proposition.
And more
Enrollment managers typically begin their career path in an admissions or student advising related role before moving into an enrollment management position, so they are generally familiar with the student journey.
Average Salary of Enrollment Managers
The salary of an enrollment manager is dependent on a variety of factors. However, the average base salary of enrollment managers in the United States is approximately $69,000 per year. On the high-end, enrollment managers can make upwards of $113,000 annually depending on experience and education. This salary is reflective of enrollment managers working in the education industry.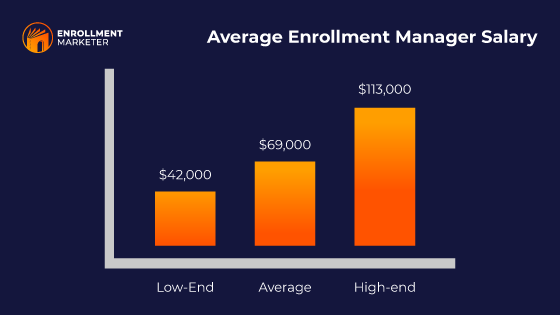 Important Compensation Considerations
The salary of enrollment managers can vary widely depending on a variety of factors. Here is a list of 7 factors that can impact your salary as an enrollment manager in higher education.
1. What level of education have you completed?
Your level of education can potentially influence how much employees are willing to pay you. Employers may be willing to spend the extra money for someone who has completed a master's degree rather than dipping from the pool of bachelor's level applicants.
Another way that you can stand out is by pursuing certificates in enrollment management such as USC Rossier's leadership in enrollment management certificate. These can often be cheaper than pursuing a master's degree and can still demonstrate to your prospective employer that you have the skills necessary to succeed in an enrollment management position.
2. How much experience do you have?
Experience is one of the biggest factors that impact your salary. Companies are likely to offer a higher salary for more experienced candidates. If you are coming into this role having worked several higher education jobs before and you are familiar with the world of higher ed marketing, you may be able to use this to negotiate a salary increase.
3. What school are you applying to work at?
Are you applying to a local community college or are you seeking work as an enrollment manager for one of the top schools in the country? The size and credibility of the school you work at can impact how much money you make. Some schools will have more resources to offer a higher salary than others. More reputable schools might be more competitive, so be sure that you have a well built resume.
4. What state do you live in?
The state you live in can have an impact on how much money you make as well. Socioeconomic and political factors such as tax rates or state minimum wage can impact your salary as well. For example, if you are applying to a university in California, you may find yourself making more money than if you worked for a college in Georgia. But remember to check the local tax rates and living expenses as well.
5. How high are the local living expenses?
As mentioned above, it's important to remember that you may see a job that has a high salary in an area in which living expenses are also very high. In this case, consider how much the higher salary will make a difference in the long term.
Using a cost of living calculator can tell you how much your salary needs to be in a given city to maintain your current standard of living. In some situations you may find that it is actually better to accept a lower paying job if it is an area in which living expenses are also low.
6. Are you working remotely or in person?
If your job is remote, your salary could be impacted. Some employers will base your salary off of where you live rather than where the institute is based. This can potentially work in your favor if you move to an expensive area, but if you move to an area in which cost of living is lower, you may find yourself getting a pay cut.
7. How badly do you want the job?
It's often difficult to strike the balance between knowing your worth and settling on a lower salary for a job that you know you really want. Make sure you have set goals for yourself and that you know your personal metrics when it comes to your career. Is it more important to you that your job has a good work-life balance, or higher salary? Are you willing to relocate in order to be close to the university?
How To Become an Enrollment Manager
If you are looking for a job as an enrollment manager or an enrollment marketing manager, take a look at this article walking you through the process. It is important to stay updated with enrollment management trends so that you can dedicate yourself to continuous improvement in the field.
Subscribe to the Enrollment Marketer newsletter to receive helpful articles and resources right in your inbox that will help you learn about and stay on top of the world of enrollment management and marketing.