What Is the Admissions Funnel in Higher Education?
College admissions can be a complicated process. Students can easily become overwhelmed by the nearly 4,000 domestic colleges and universities available to them. For colleges, competing for the right student alongside a sea of options is just as daunting. To increase the number of matriculated students who enroll in your institution, it's crucial to effectively leverage your admissions funnel. This article will cover:
What is the admissions funnel?
How to increase enrollment using the admissions funnel
What is the Admissions Funnel?
The admissions funnel, also known as the enrollment funnel, represents the journey students take from prospective to enrolled. It consists of six key stages:
Prospects: Students who haven't yet engaged with your institution, but are in your funnel. These individuals are likely captured through referral programs or bought names.
Inquiries: Students who have engaged with your institution (e.g., taking campus tours, completing inquiry forms, or requesting more information. The goal of any inquiry is to convert them into an applicant.
Applicants: Students who've submitted an application for admissions. The percentage of students transitioning from the inquiry to application stage is called the "application rate."
Admits: Students admitted to your college. They've been evaluated based on their application materials, transcript(s), recommendations, and other requirements. The percentage of students who are admitted is known as the "admit rate."
Deposits: Admitted students who've committed to an institution, and submitted a financial deposit to reserve their space in a program. The percentage of students who submit a deposit is the "yield rate."
Enrolls: Deposited students who've completed institutional onboarding, such as orientation, and registered for classes.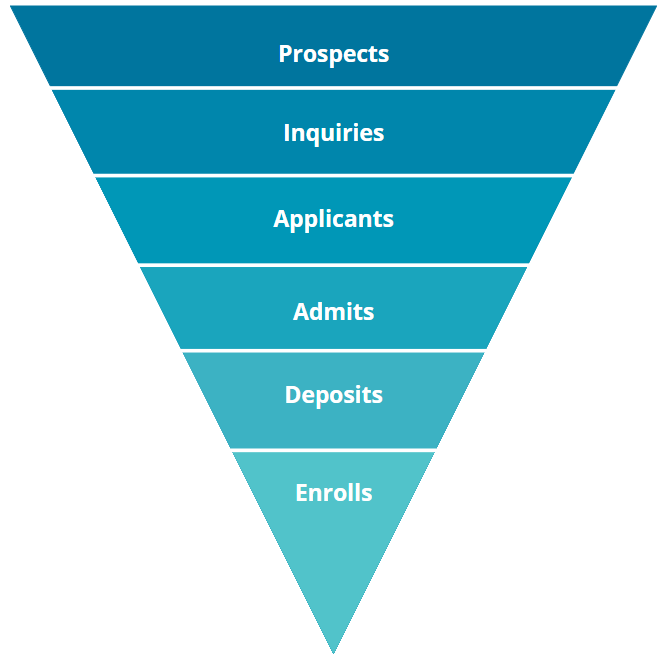 This funnel is meant to visually illustrate the journey prospective students take as they progress through your school's admissions process. In higher education, the student journey is made up of three stages, each of which closely aligns with the admissions funnel.
Awareness Stage: Prospective students become aware of the urgency to start searching for a college or university.
Consideration Stage: Those students begin evaluating different institutions, comparing and identifying the options that best meet their needs.
Decision Stage: The students have finished evaluating their options and are ready to make a final decision.

Ideally, a prospective student will enter the admissions funnel at the Awareness Stage and eventually progress to the Decision Stage. However, the reality is that "enrolls" account for a very small percentage of the funnel. To better understand how prospective students move through the admissions process, it's often broken into three, more general sections.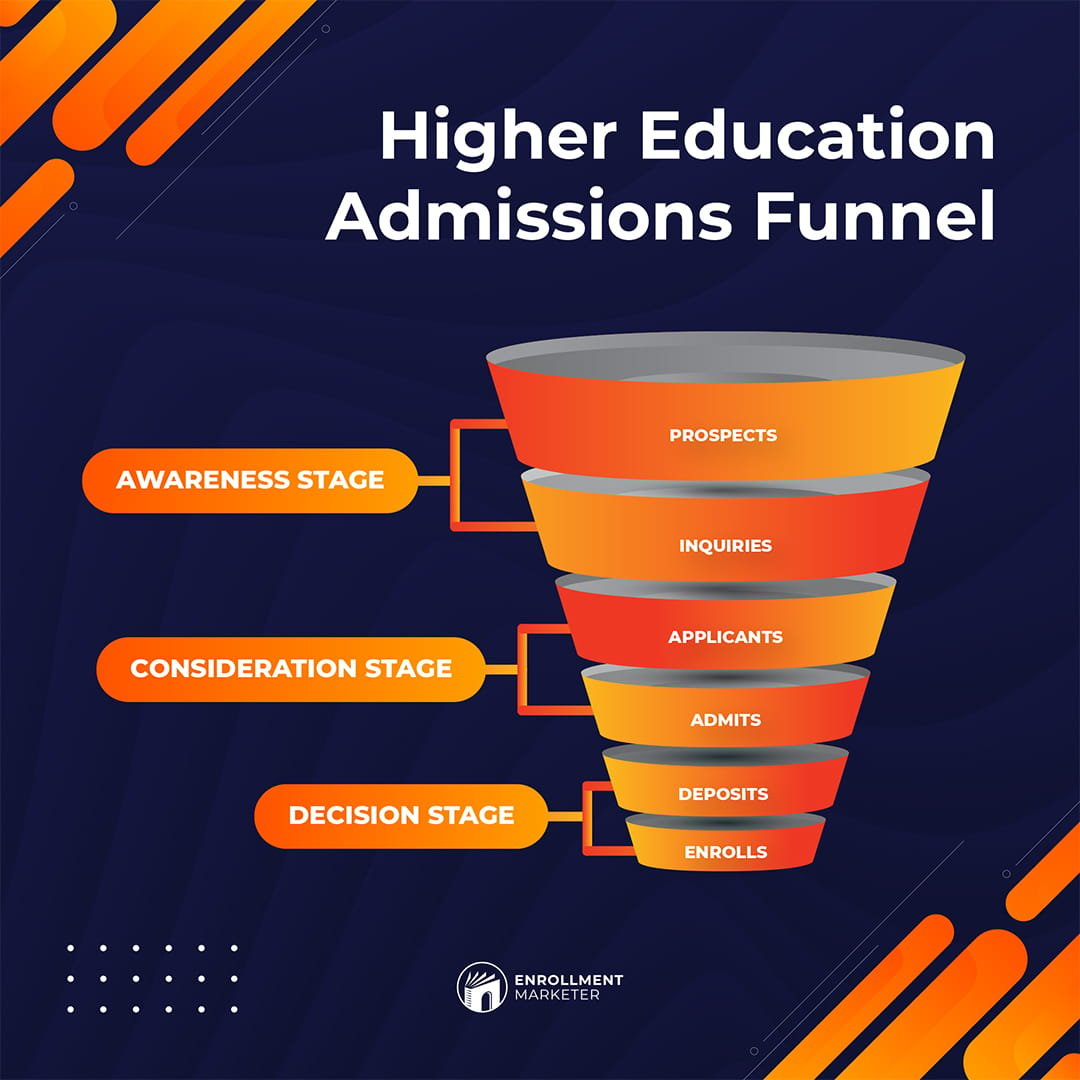 Top of the Funnel
The top of the funnel represents the Awareness Stage of the student journey, and encompasses both prospects and inquiries. The purpose is to raise a prospective student's awareness of their needs that your college or university can address. In the end, the goal is to convert prospects into inquiries, and inquiries into applicants. This is accomplished with awareness campaigns like in-person recruitment events (e.g., college fairs and high school visits), content marketing, search campaigns, and more.
Middle of the Funnel
The middle of the funnel is attributed to the Consideration Stage of the student journey. This part of the enrollment process includes both applicants and admits. Remember, students who've applied and been accepted to your institution aren't guaranteed matriculations, as most students apply to multiple colleges. According to Princeton Review's 2021 College Hopes & Worries Survey, approximately 40% of prospective students plan on applying to between five and eight colleges, and 32% apply to more than nine.
The middle of the funnel can be a difficult part of the process to navigate, as students don't always enter the funnel as prospects. While your school's marketing messages likely attract many of your students, other forms of marketing such as word-of-mouth or print marketing are oftentimes more difficult to track. There are a number of application stages to consider:
Stealth applicants: Those who enter your funnel directly at the application stage and are unknown as an inquiry.
Started but not submitted applicants: Those who have started their application, but haven't submitted it for review. Within the Common Application these students can be identified as suspects, those who have added your college to their My Colleges list, and prospects, those who have answered start term and admissions plan questions on your institution's member screen.
Bottom of the Funnel
The bottom of the funnel represents the Decision Stage, those who have committed to your institution, including deposits and enrolls. These students require continued nurturing. Leading up to the start of an entry term, deposited students may withdraw their deposit. This is referred to as "melt." Melt occurs for a variety of reasons, including financial aid concerns, being removed from another institution's waitlist, or opting for a gap year. Therefore, it's important to keep in mind that even though a student submits a deposit, this doesn't guarantee that they'll convert to an enrolled student.
Enrolled students represent the smallest portion of the admissions funnel. These are the students who have progressed through the entire funnel and matriculated as a result. It's important to remember, however, that enrollment marketing doesn't conclude with a matriculation. Retention of current students, as well as building relationships with alumni and donors are all crucial elements of a successful strategy. So don't neglect them in your marketing efforts!
Increasing Enrollment With the Admissions Funnel
College admissions is guided by the admissions funnel. The wider your funnel, the more potential impact you have. Therefore, you need to know how to use this strategy to increase enrollment for your institution. Here are some tips to help.
Set SMART Goals
Setting enrollment goals is crucial to effectively leveraging your funnel to increase matriculations. SMART goals—Specific, Measurable, Attainable, Relevant, and Timebound—are an excellent way to accomplish this.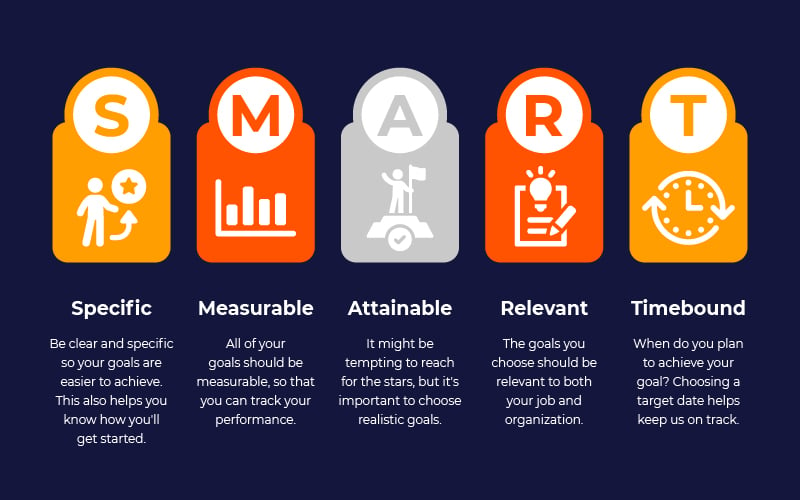 Here are five tips to effectively leverage SMART goals for your college or university.
Identify your institution's objectives: What are your overall goals? While increased matriculation is an obvious objective, the purpose of increasing enrollment is to boost revenue from tuition, fees, and room and board. This means that you're tasked with developing strategic marketing initiatives to recruit the right students who'll enroll in, and graduate from, your institution.
Identify your student personas: Student personas help you attract the right students for your school. They help you determine who your ideal student is, and how to target them in your marketing efforts.
Select your key performance indicators (KPIs): KPIs are important for any marketing campaign, and higher education is no exception. Be sure to set these performance metrics for each stage of the funnel to ensure you're seeing the full picture of your campaign's performance.
Set your SMART goals: When you've finished planning, it's time to set your SMART goals. Remember to incorporate each component—specific, measurable, attainable, relevant, and timebound.
Track your progress: Tracking the progress of your goals at each stage of the funnel is crucial. It allows you to evaluate each stage of the funnel so you can determine which section needs the most focus. That way you can properly plan for and/or predict an incoming class.
Analyze Your Admissions Funnel
As you're setting and tracking your goals, it's important to analyze your funnel at each stage. For example, if inquiries are up you can reasonably predict an increase in applications, and, therefore, be more selective during the admissions process. If inquiries and applicants are down, however, your next steps might include increasing your inquiry numbers through college fairs, high school visits, or buying names.
Learn More About Enrollment Marketing
Focusing on your admissions funnel is an important part of enrollment marketing. The admissions funnel, when combined with the inbound marketing methodology, is a powerful tool that can help you achieve your goals.
Subscribe to the Enrollment Marketer newsletter to receive helpful articles and resources right in your inbox that will help you learn about, and stay on top of, the world of enrollment management and marketing.