How To Become an Enrollment Marketing Manager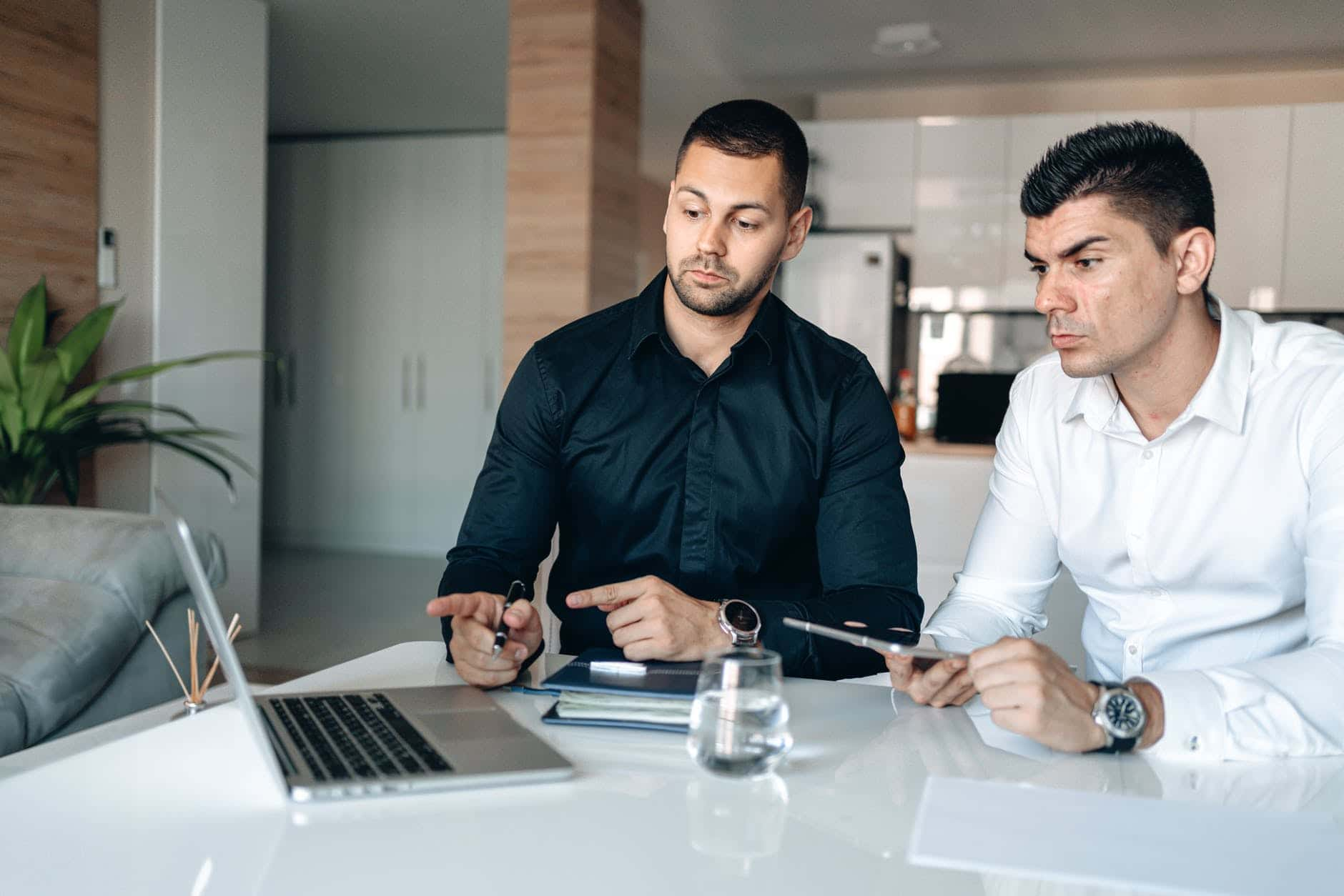 If you're an entry-level marketer seeking work as an enrollment marketing manager, you're probably familiar with the problem of lacking the required work-experience for a job posting. As you stare at an empty resume on your computer monitor wondering how on earth you can acquire the necessary qualifications and years of experience when you are first entering the job market, it's easy to feel a bit deflated.
But there is some good news! Whether you're a recent graduate or you already have a few years of experience under your belt, becoming an enrollment marketing manager is well within your grip, provided you are willing to put in the time and effort.
The profession is one that is growing in demand, as shown in recent hiring trends for enrollment marketing-related roles across America.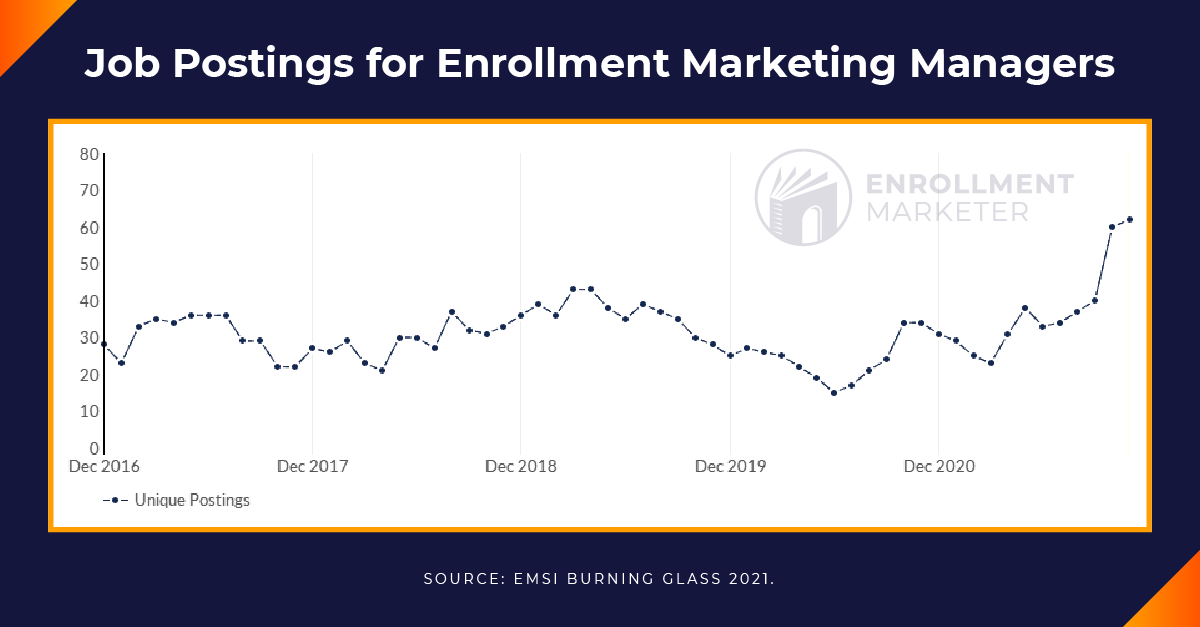 Before you dive headfirst into pursuing a career in enrollment marketing, it is important to obtain a thorough understanding of what the career entails.
What is enrollment marketing?
Enrollment marketing refers to the marketing processes that an educational institution (whether colleges and universities, or K-12 private schools) performs to attract potential students to their programs or degrees.
An effective enrollment marketing plan will include an analysis of the institution's target audience, a list of clearly-defined SMART goals, and comprehensive strategies that leverage automation, SEO, content, and a mix of modern inbound marketing strategies alongside more traditional non-digital tactics.
It is the responsibility of enrollment marketers to ensure that a steady stream of students enroll in the programs that their institutions offer. An enrollment management position requires an individual with strong analytical skills as well as marketing and communication abilities as interacting with clients directly is often part of the job.
What does an enrollment marketing manager do?
Enrollment marketing managers are tasked with the development and execution of marketing strategies, plans, and campaigns aimed at generating awareness, inquiries, and applications for their school's programs. The position often sits within the enrollment marketing, enrollment management, admissions, or marketing and communications team, and generally reports to a Director or VP-level department head.
While enrollment marketing might be your core responsibility, you won't always find it in the advertised position name. Common job titles include Marketing Managers, Marketing Specialists, or Recruitment Marketing Specialists.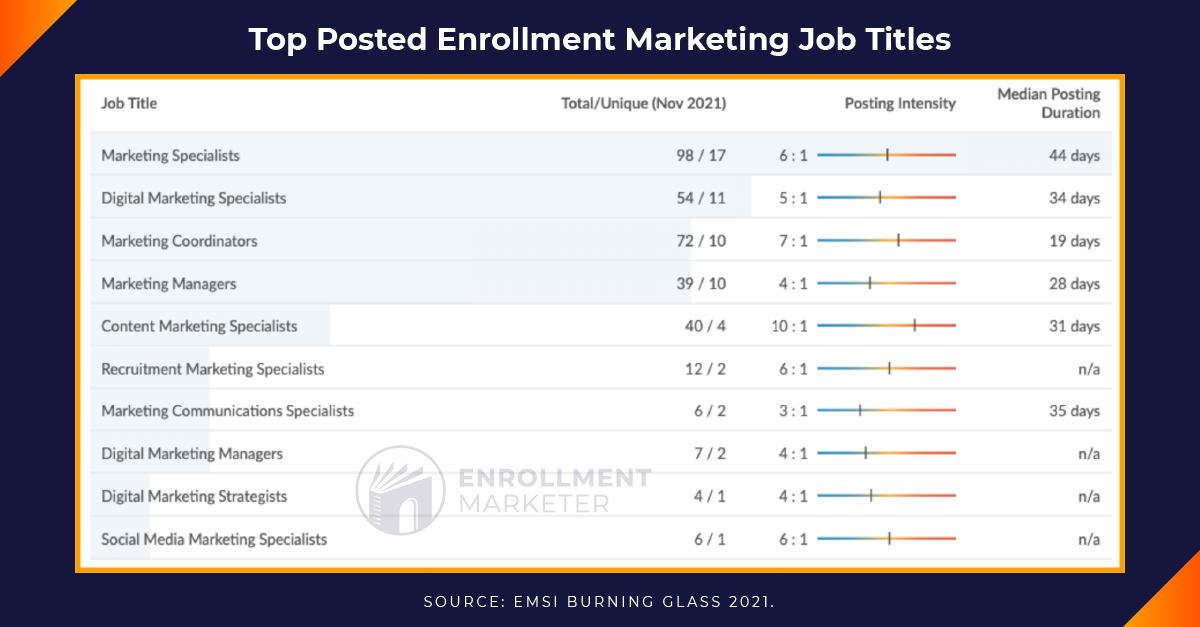 Depending on the size of the institution, the person will either be responsible for the entire portfolio of degrees, certificates, and programs, or a sub-set of sector-specific programs.

Key responsibilities of enrollment marketing managers often include:
Those who will be most successful in this role will come prepared with a balance of skills across three key areas:
Advanced knowledge of both inbound marketing and digital marketing strategies and tactics
Effective copywriting and communication skills
An ability to both empathize and develop a strong rapport with those working in both the admissions and academic departments their function supports
Fortunately you don't have to wait to land a management position to begin acquiring these skills. With a bit of patience and perseverance, there are steps you can take right now to begin your journey.
Steps to Become an Enrollment Marketing Manager
While the list of responsibilities of enrollment marketing managers may seem daunting for the uninitiated, there are several steps you can take as an entry-level candidate to acquire the skills necessary to be successful in an enrollment management position.
1. Earn an undergraduate degree related to marketing.
One of the first steps to obtaining an enrollment management position in a higher education institution is to earn a marketing degree from an accredited college or university. A bachelor's degree in marketing is an excellent first step towards an enrollment marketing management job, as well as being a requirement for several of the positions available.
As you consider different programs, consider the skills employers are demanding, and the skills those programs will provide. Below are a list of some of the top hard and soft skills most often required in positions posted for enrollment marketing-related positions.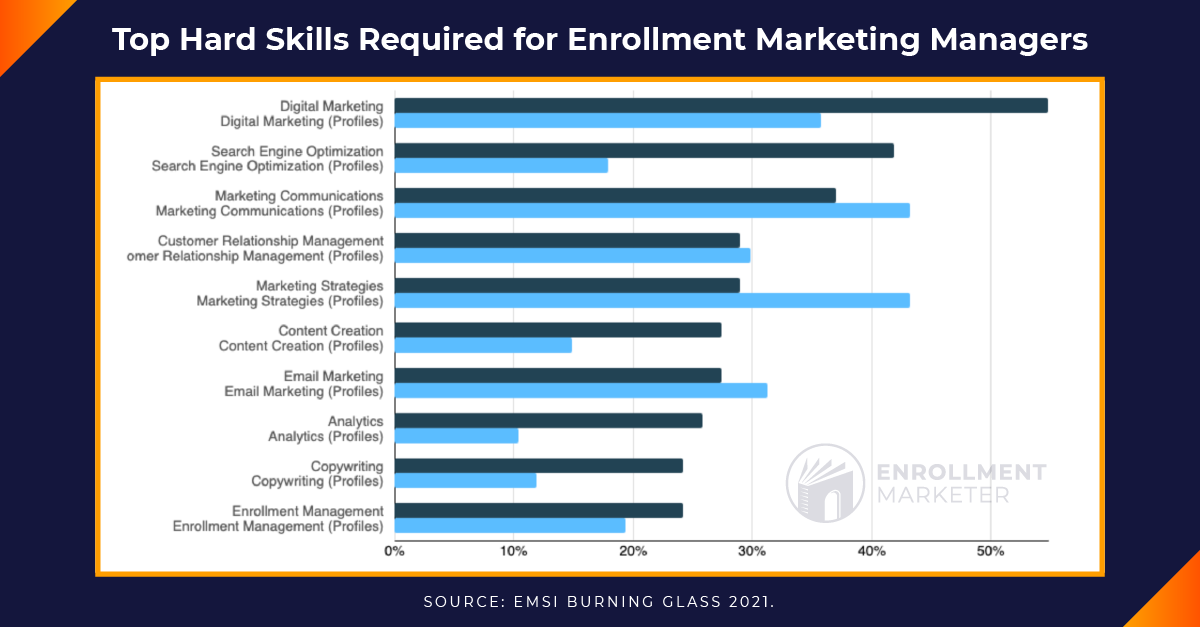 As shown in the data, there is a clear gap in the skills employers demand and the skills job seekers mention in their profiles. Digital marketing, SEO, Content Creation, Analytics and Copywriting are three of the most noticeable gaps between the skills employers seek and the qualifications job seekers have.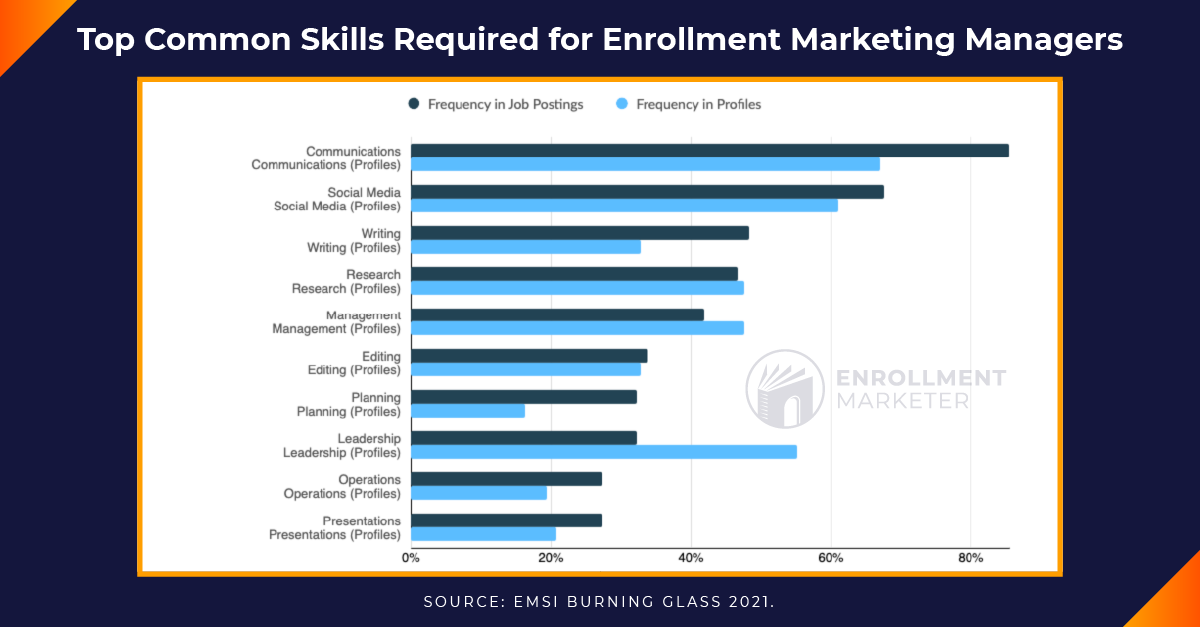 This gap is shown in the common skills, or soft skills, as well. Writing and Planning is emphasize far more in job requirements than it is on resumes, while Leadership skills are potentially being over-emphasized.
2. Show commitment to continuous improvement.
One way you can set yourself apart from the crowd is by pursuing independent learning opportunities outside of your job or education. Marketing is constantly changing and thus staying on top of the latest trends and marketing updates can distinguish you as a digital marketer. Many of the skills required for enrollment marketing managers can be obtained through free certification courses offered by sources such as HubSpot and SEMrush. While these marketing initiatives may not count towards direct experience, they are an effective way to fill out a resume and demonstrate your commitment to continuous learning.

According to industry expert Phil Ollenberg, there are many learning opportunities pertaining to enrollment marketing, from associations such as NACAC and AACRAO to enrollment marketing watering holes such as the #EMChat hashtag on Twitter. There are also several publications such as Inside Higher Ed and The Chronicle of Higher Education that can provide useful information about the higher education industry.
3. Gain experience working as a part of an enrollment team.
As nice as it would be to jump right into a management position as an entry-level candidate, that most likely will not happen. However, working on an enrollment team will likely provide you with the opportunity to ultimately advance to a management position. Be on the lookout for enrollment opportunities within an organization. Some job titles to look out for include:
Student Recruitment Specialist
Enrollment Counselor
Admissions Advisor
These positions will provide you with relevant experience that will help you land an enrollment management position. However, even volunteer admissions or tour guide positions can allow you to get your foot in the door and connect you with the right people. Phil Ollenberg explains that "The pathways into this sector often start as a student worker. A lot of enrollment managers and marketing managers, including myself, started out in the admissions, marketing, or recruitment office as a tour guide, clerical assistant, or student ambassador, either in paid, intern, or volunteer roles." Networking is one of the best ways to advance your marketing career, so be sure to establish rapport with your employers.
4. Take on more advanced responsibilities as a part of your job.
Employers love to see initiative, so be sure to actively seek out tasks and responsibilities relevant to an enrollment management position. If you can demonstrate that you have the drive and skills required to be successful in a management position, employers will be much more likely to promote you.
Conclusion: Ready to Skill-Up? Here's How:
If you believe that a career as an enrollment marketing manager is the right one for you, the good news is that it is within your reach. The best way of preparing yourself for the role is to continuously educate yourself about enrollment marketing tactics, strategies, and best practices. We invite you to dive deeper into our content to continue learning!
Subscribe to the Enrollment Marketer newsletter to receive helpful articles and resources right in your inbox that will help you learn about and stay on top of the world of enrollment management and marketing.