7 Higher Ed Admission & Recruitment Strategies
If you are looking to increase student enrollment at your higher education institution, you may be wondering where to begin. How do you attract the right students and stand out from the competition? There are so many higher ed options for students that it can be difficult to distinguish your school in the mind of prospective students.
Here are several student recruitment strategies you can use to increase enrollment at your school.
1. Start with the student journey.
The student journey consists of three primary stages: The awareness stage, the consideration stage, and the decision stage. Prospective students go through each of these stages before matriculating.
The awareness stage reflects the stage in which the student becomes aware that they need to begin looking for a college or university.
During the consideration stage, the student has become familiar with their needs and begins considering options to fulfill them.
Finally, the decision stage represents the stage in which the student has considered their options and is ready to make a decision.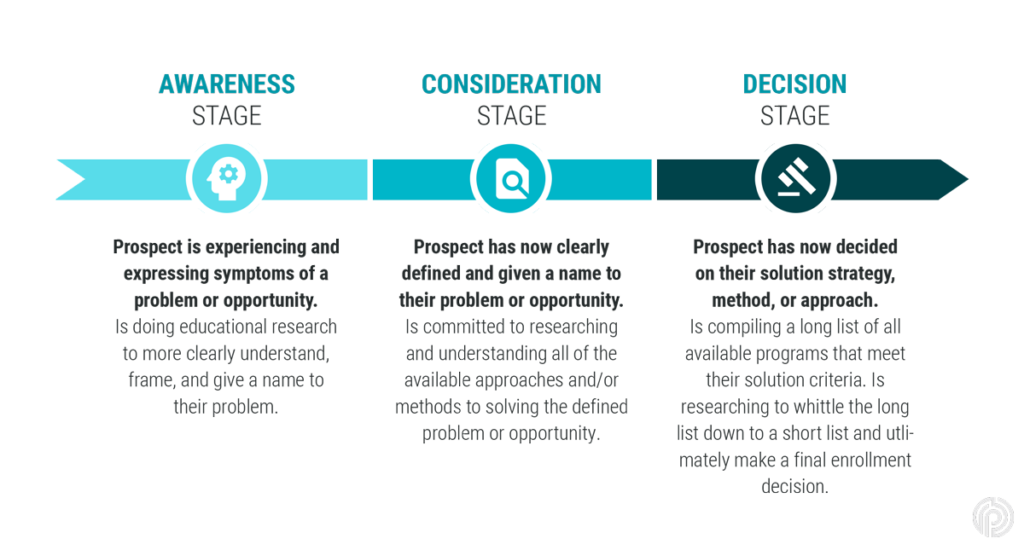 The student journey can inform your marketing efforts and help you to segment your various campaigns.
Before you begin any other marketing campaign, make sure you have built out comprehensive student personas. These are semi-fictional representations of your ideal student. Your student persona can also define which stage of the student journey your target audience is, and you can use this information to help bring your prospective student from the awareness stage to making a final decision. You also need to ensure that you have set SMART goals for your marketing strategy. These are all key components of building an effective inbound marketing plan.
2. Turn your website into a lead generation machine.
If a prospective student hears about your school through word of mouth or social media, your website is likely to be the first place they go to research further. That simple fact, paired with any marketing efforts you are pursuing to drive visitors to your website, means that your website has the potential to be a lead generation machine.
This can be as simple as making sure you have a working "Contact" page so that prospective students can easily get in touch with you. You may also want to consider placing forms strategically on the website (especially on key pages) where students can inquire about programs, request information, or speak to a member of the enrollment team.
When you are building landing pages for your website, think carefully about the information that you are including on the page and try to answer the questions that prospective students are going to ask. Your content strategy is another place where you can generate leads.
For example, if you write a post about how to choose the right college, you can include a comprehensive guide in ebook form at the bottom of the post. Once interested students have entered their information and downloaded the ebook, you can begin to have a conversation with them and determine whether your school is the right fit.
3. Evaluate your past marketing performance.
Digital marketing is a constantly evolving field, and enrollment marketing is no exception. However, chances are you have a wealth of information at your fingertips that can inform your future marketing campaigns. Conducting an audit of your previous marketing performance can provide you with insight into what may work for future campaigns. Ask yourself questions such as:
What has worked for you in the past?
What hasn't?
What would you love to do again?
What will you never do again?
Keep an open mind as you are auditing your past efforts and try to be as objective as possible.
Another way that you can determine what has worked in the past is to survey your current students and ask them why they selected your school over your competitors'. Doing this will help you to determine which channels you should focus on and which may not be as effective as you hoped.
4. Leverage your existing database.
Your existing database of information can provide you with a plethora of opportunities to improve your enrollment marketing strategies.
Reach out to local high schools or community colleges to obtain a list of recent high school graduates or students who just received an associate's degree. Also leverage your database of existing students and inquiries. This includes people who came to the site, filled out a form, or in some other way expressed interest.
Each audience should be handled differently, so be sure to tailor your efforts to that specific audience. Your messaging will be different for local highschool students vs. associates degree recipients at a local community college vs. website visitors who requested information, etc.
Email Marketing Campaign
An email marketing campaign can be an excellent tool for starting a conversation with prospective students. Depending on what information you have at your disposal, you can create campaigns for your:
Existing database of past inquiries
Contact lists from local high schools
Contact lists from local community colleges
Alumni
Your email campaign can help keep prospective students engaged and keep your college at the forefront of their minds as they evaluate their options. Make sure that you segment your database to ensure that your emails are both timely and relevant. Once again, refer back to your student personas to inform your email strategy.
Reach Out to Families
College loyalty is strong among families. Approximately 20% of younger siblings attend the same college as their older siblings. Therefore, it is important to facilitate conversations not only with prospective students but also with their families. There are several strategies that you can implement to encourage family engagement including:
Hosting college family events: Host a family night or weekend at your school and create events that the whole family can enjoy. If your school has a football program, you can host a family event during a home game so that the family can watch the game together. Avoid hosting these events during busy times such as midterms or finals, however, as you want to ensure that your college students have the freedom to spend time with their family.
Invite younger siblings to try out college life: Another option is to invite younger siblings to try out college life for a few days. Give them a feel of what attending your school is like and host events to educate them about your programs and opportunities.
Provide scholarships for families: A great way to incentivize multiple family members to attend your school is to provide scholarships for students who have had a family member (whether a parent or older sibling) attend your school.
Maintaining good family relations will go far in ensuring that your enrollment marketing efforts have both short-term and long-term benefits for your school.
5. Consider running a content marketing campaign.
As was previously mentioned, a content strategy can generate leads for your higher ed institution. A school blog post can help shed light on programs or degrees that you offer.
For each program that you're trying to support, identify the key goals and/or questions that prospective students are asking and then create content that answers those questions.
This content can then be leveraged in email marketing, social media marketing, organic search, and more.
Recommended reading: The Role Content Plays in Marketing for Higher Education
Your content marketing strategy should begin with your student personas. Conduct keyword research to accompany each persona and use that information to generate ideas for posts that appeal to your target audience.
For example, if you are targeting a recently graduated high school student, you may want to create a piece of content geared towards choosing a career path or major. Your personas can help you determine what avenues to pursue when creating content and which may not be relevant to your target audience.
6. Start a social media campaign (or hashtag).
Social media can be used as a powerful college recruitment strategy. Approximately 58% of students research schools they are interested in attending on social media prior to applying. It is important to remember that not every student will be interested in every social media platform, so you need to figure out which social media networks/platforms your students actually use as it will vary. Consider surveying your current students.
For example, if your program is geared towards older students who are returning to college to further their education, these students may be more likely to use Facebook. Younger students are more likely to use Instagram or Snapchat, however.
If you're targeting working professionals looking for career change or career advancement, consider LinkedIn. You can use any social media channel depending on your target audience. Once again, always return to your student personas to inform your strategy.
7. Continue to delight current students.
You may be familiar with the inbound flywheel. Essentially, your marketing objectives can be broken down into the three stages of attract, engage, and delight. It is important to remember that the delight stage is just as important as attracting and engaging potential students.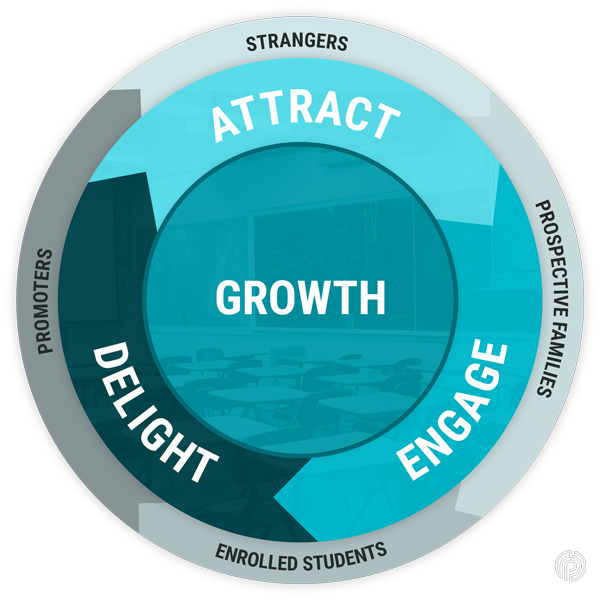 Word of mouth is a powerful tool. It can either draw prospective students to your school or warn them away. Therefore, it is crucial to continue to provide your current students with an excellent college experience. Be open to hearing what your students have to say and be willing to make changes based on their feedback.
Even when students have completed your program and graduated, they can still serve as effective brand ambassadors for your school. Be proactive about building a strong alumni network and hosting alumni events. Additionally, if your school offers master's degree programs, your alumni can quickly change from former students to prospective students once again.
Overall it is important to remember that the fewer students leaving your institution, the healthier your pipeline will be.
Stay Informed!
Higher education marketing is constantly changing, so it is important to stay on top of the latest trends to ensure that your admissions process runs smoothly. Subscribe to the Enrollment Marketer newsletter to receive helpful articles and resources right in your inbox that will help you learn about and stay on top of the world of enrollment management and marketing.