How To Conduct a Higher Education Website SEO Audit
College searching is one of the most critical points in a prospective student's life, as the school they decide to attend and the degree they pursue form the bedrock of their future career prospects.
If you are a marketer working for a college or university, you are probably aware that one of the best ways to help students make the choice to attend your school is to make it as easy as possible for them to find you. One of the reasons inbound marketing is so effective is that your marketing efforts are geared towards attracting the right audience rather than interrupting them with intrusive marketing.
A properly optimized website will rank higher in search results, thus increasing the likelihood that a prospective student will encounter your institution in their college search. However, marketing is constantly changing as is Google's ranking criteria. It is important for you to conduct an occasional audit of your website to ensure that it is properly optimized.
This article will cover:
What is a website SEO audit?
The steps to conducting a website audit
What is a website SEO audit?
A website SEO audit is a thorough examination of the search engine optimization (SEO) of your higher education website. This includes analysis of the on-page and off-page SEO elements of the website.
It can be very easy to build a landing page on a website and forget about it. However, the larger your website is, the more mistakes you are likely to have made in its construction. Furthermore, digital marketing is a constantly evolving field and the latest trend in web design can quickly become obsolete after an update from Google. Thus, periodically reviewing your website should be an important part of your website strategy.
Steps to Conduct a Website SEO Audit
1. Define your goals.
It is always important to begin any marketing endeavor by defining clear goals. If you do not have a clear objective, your audit will lack direction and can easily become overwhelming. The best way to formulate your goals is to use SMART goals, which are Specific, Measurable, Attainable, Relevant, and Time-bound.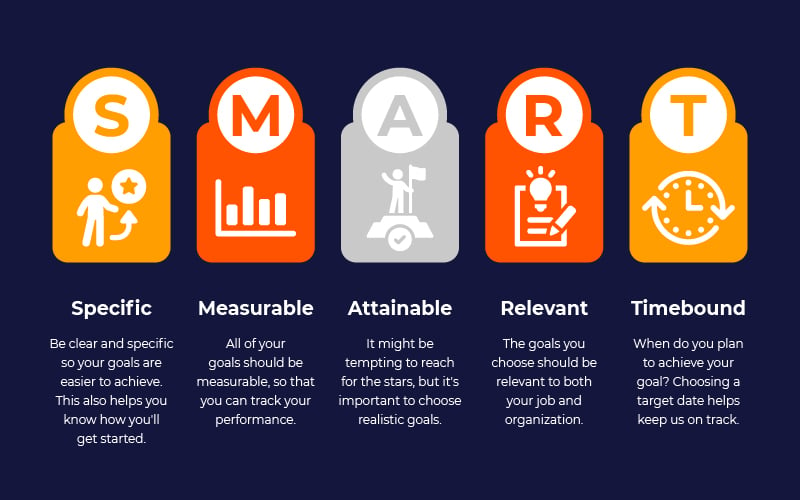 An example of a SMART goal might be:
Increase program information requests from organic search from our current conversion rate of 1.2% to 3.5% by January.
This goal suggests you should prioritize your audits to focus on the institution's program pages and the pages leading visitors to those pages rather than non-enrollment focused sections of the website such as academic calendars, faculty bios and research.
Higher ed websites can be massive, and auditing the entire thing can be daunting. Thus, establishing your goals is critical to conducting an organized and effective audit. Some tips include:
Start with the most important pages: Application pages, program landing pages, the most commonly viewed pages and the ones that most closely align with your goals should be the priority. Consider your program-specific enrollment goals to weigh the importance of individual pages.
Consider internal constraints: If you recommend a change to improve search results, would that change actually get implemented? Often within higher education, competing priorities within different departments can get in the way of changes like redesigning a page template or pursuing more technically challenging website changes.
Don't forget about page experience factors such as page speed, mobile-friendliness and accessibility: Higher ed websites can easily reach 2,000 - 3,000 pages, and it can be easy for students to get lost. It is important that as they navigate your website they do not have to wait 10-15 seconds each time they open a new page. It is also important to make sure that your website is just as readable on a mobile device as it is on a desktop, and be sure not to neglect accessibility features such as alternate image text.
It is important to set goals that align with your institutional goals, so make sure you are familiar with the overall objectives of your college or university.
2. Identify issues.
If manually clicking on every single page in your school's website to make sure it all works properly is a daunting task, don't worry because you probably won't have to do that. While manual audits are important, auditing a 2,000 page college website one page at a time would take ages. The good news is that there are several tools available that will save you time and effort.
Run a full website crawl.
There are several auditing tools available that can help you identify some of the issues that your website is facing. While you don't want to rely solely on these tools, they can help you organize your audit and recognize many of the technical problems on your site. Some of these tools include:
Don't be afraid to do your own research to find a tool that fits your organizational needs without breaking the bank.
Organize your data.
Your website crawl will contain information on broken links, XML sitemaps, indexability, and more. Put this information into a comprehensive document with the information from the crawl segmented into clear sections. This will allow you to more easily identify where any potential problems exist without getting confused by convoluted information.
Track your conversions.
Review your website's analytics using Google Analytics. Discover which pages are leading to applications and matriculations. How do students progress from prospective students to enrolled applicants? Analyzing the path students take to navigate your website prior to converting can provide you with valuable insights that can help inform your marketing strategy. Although the purpose of your audit is to uncover opportunities that will help your pages rank higher in search results, you want to make sure that the traffic you attract is also converting into inquiries or applicants. Being mindful of pages with lower conversion rates can lead to additional insights and opportunities that can add extra value to your SEO efforts.
3. Keep a mobile-first mentality.
It is important to maintain a mobile-first mentality. As of 2013, only 0.4% of college students do not own a smartphone. As of 2016, 35% of prospective students use a handheld device as their primary medium of researching college information and 18% of prospective college students conduct daily college searches on their mobile devices. This means that if your website is not optimized for mobile, your college or university will be missing out on a large portion of the pool of prospective students. In a pinch, HubSpot's website grader will give you a brief overview of your website's mobile optimization.
4. Consider off-page SEO.
In addition to reviewing the SEO of your webpages, it is important to evaluate each of the backlinks that are leading people to your website. You want to ensure that the links that are directing people to your site are not toxic, harmful, or spammy. Ideally you want backlinks from a variety of credible sources, as Google will get suspicious if every backlink that points to your site comes from the same source. Using an audit tool such as SEMrush's backlink audit tool will help you see how your site stacks up against the competition.
5. Look at your design & UX.
Your website design plays an important role in your SEO strategy. If the pages on your website are not optimized for user experience, not only will Google rank your site lower, but prospective students will likely be turned away from your school simply because they get frustrated or confused.
Optimize your HTML structure.
Your HTML structure plays a key role in communicating the content of a webpage to Google's crawlers. Therefore, ensuring that your structure is properly optimized is critical.
Headings: Keep your content properly structured and organized by using the correct heading tags.
Title tags: Make sure that your title tags are not too long or too short and clearly summarize the content or your page.
Meta descriptions: Once again, make sure that your meta descriptions are not too long or too short and provide a coherent description of the content of a page.
Alt text: The accessibility of your website plays a major role in its optimization. Review each of the images on your site and ensure that each has effective alternate text.
Remember that one of the most effective ways to reduce the time it takes to audit your website is to ensure that it is properly optimized from the beginning so don't hesitate to take the extra time now to make sure your future pages are properly structured.
Improve your page speed.
One of the most important considerations for your SEO audit is your website's page speed. Here are some easy ways to cut down on page loading speed:
Reduce image size: The number of images your website has and the size of your images can drastically slow a landing page's loading speed. Try to keep your image size low (generally under 100kb) to speed up your page speed. There are several free image compression tools available that you can use to reduce the size of your files.
Have a low number of fonts: Believe it or not, the number of fonts you use on your website can impact the loading time of your pages. Try to keep the number of fonts and variations low. A good rule of thumb is to use no more than two styles of font across your website. This will ensure that your website does not get bogged down trying to load an exorbitant amount of fonts while also maintaining a semblance of uniformity across your website. If you feel that your website looks boring with only two styles, remember that you can add some variety by putting the font in bold or italics as well.
Get rid of unnecessary plugins: If you use a lot of plugins, communicate with your team and determine which plugins are important and which you can do without. Not only can this improve your page loading speed, it can also reduce the security threat associated with using plugins that are not frequently maintained.
6. Conduct a manual audit.
It can be very easy to get caught up in the numbers of SEO and focus solely on improving them. It is crucial to remember that at the end of the day you are trying to market your school to human beings, not numbers. Conducting a manual audit can therefore be an excellent way to find flaws in your UX that the crawlers may have overlooked.
A manual audit involves navigating your website yourself and keeping an eye out for any errors or problems you encounter. An excellent way to review your website through a manual audit is to navigate your website as though you are a prospective student. Refer to your student personas for inspiration and set yourself a goal that the persona might have, such as discovering information relating to a specific program. Then navigate through your website until you arrive at the right location. Ask yourself questions such as:
How easy was it to find the right page?
How many links and pages did you have to go through to get there?
Did the pages load right away, or did it take some time?
Were the calls to action clear and relevant, or did you have to ignore a lot of information to accomplish your goal?
How relevant was the information you found to the question you had?
Repeating this process for your different student personas can alert you to issues that you were not previously aware of.
7. Consider External Help
Conducting an SEO audit of your website can be a challenging and potentially erroneous endeavor if you are not a seasoned SEO professional. If this is the first time you have considered auditing your website, you might find value in hiring an external SEO consultant or agency who can conduct the task with a greater level of precision and efficiency. After an initial audit, it will become much easier to maintain and routinely check for similar issues with internal resources in the years that follow.
Next Steps
Once you have finished your audit, the next step is to resolve any of the issues that warrant your attention. In the meantime, make sure that you stay updated with the latest information pertaining to marketing to make sure that your future audits go as smoothly as possible.
Subscribe to the Enrollment Marketer newsletter to receive helpful articles and resources right in your inbox that will help you learn about and stay on top of the world of enrollment management and marketing.