Developing a Content Plan for a School Marketing Campaign
We've all heard the phrase "a goal without a plan is just a wish" and the same can be said when it comes to school marketing efforts. From admissions to development and retention, virtually every aspect of a school's success depends on creating the right message for the right audience.
Note: This article was originally published on the Pepperland Marketing Blog, and has been republished here with permission.
A unified, strategic plan to develop this content is essential to help navigate a prospect through their journey to ultimately select the right school.
It's also important to remember that content marketing and inbound marketing share a number of similarities. Although they differentiate in definition, their relationship is essential to establishing a successful marketing campaign.
In this article, we summarize this relationship with two important points:
How Content fuels and guides the prospect's journey
How Inbound strategies—such as SEO, automation, and interactive tools—allow for greater growth and transparency throughout the process
Below, we've provided some helpful tips, tools, and concepts to consider when drafting a content plan for your school's next marketing campaign.
1. Map the family's journey.
A report from the Content Marketing Institute reveals that 65 percent of the most successful content marketers have a documented strategy compared to 14 percent of the least successful. That's why prioritizing and planning for content is critical, but you have to know who you're speaking to.
Inbound focuses on a customer-centric, or in this case a student/parent-centric approach to marketing. In order to educate an audience on a particular subject or range of subjects you need to know who exactly that audience entails.
An excellent way to begin mapping your prospects journey is by creating and defining your personas.
Student/Parent Personas
HubSpot describes the relationship between the buyer's journey and a marketing funnel as the "marketing machine". This concept essentially connects each buyer's journey stage to a corresponding marketing funnel stage.

Buyer's Journey Stages via HubSpot
Both models work toward the same goal to ultimately attract visitors to your website. From there, your content should help address challenges or common pain points for your audience. However, before that can be accomplished it's important to define your personas.
For schools, boosting enrollment starts with developing the right student persona. A student persona is a semi-fictional representation of your ideal student applicant based on market research and a mix of qualitative and quantitative data of your existing students.
Creating student personas requires marketers to ask four basic questions:
Who – Who are they? Do they share a common geographic background or cultural perspective that matches with your school's mission and values?
What – What are their primary goals and pain points? What criteria do they look for in selecting a school?
Why – Why does attending a top-tiered institution matter to them? What objections might they have when applying to your school?
How – How do we provide solutions to their challenges and pain points?
Your admissions team or members of your student body can provide insights into these questions, but other tools, such as surveys and questionnaires can help as well. Creating student and parent personas are about identifying with your audience. It places a personality behind a website visitor.
Rather than viewing website visitors as random strangers, personas allow your marketing team to understand how and why those visitors are at your website in the first place. Personas help create empathy, which at its core, is an essential element of inbound marketing.
2. Identify content.
Effective, goal-oriented content is needed In order to facilitate your prospect's journey. In general, when building marketing goals, it's important to establish "SMART" goals. SMART goals are specific, measurable, attainable, relevant, and timely and establish a guide for your marketing plan.
Effective, meaningful content matches SMART goals and is tailored to answer challenges your personas may have. For parents in the awareness stage of their school decision, some common questions and challenges may include:
How can I make sure my child gets into a good college after high school?
How can I make sure my child grows into a good person?
How can I make sure my child is a well-rounded individual, not just academically gifted?
Some content topics to facilitate this prospective parent to the consideration stage may include:
What is the difference between public schools and independent schools?
What's better, co-ed or all-boy/all girl?
Will an independent school have enough diversity so my child is not sheltered?
Then, moving on to the decision stage, some examples of challenges may include:
Which school will be best for my child?
How should parents compare schools?
What should I be looking for during an open house/interview?
How do we choose between two equally good schools?
Identifying content is critical to success, however, without the right keywords, your content will likely be hidden or left out when prospects conduct a search engine inquiry. HubSpot has an excellent list of web tools to help identify the proper keywords aligning to your content here.
Obviously, the journey for a parent persona will be different than that of a prospective student, however, the general guidelines remain the same. Identifying your content involves understanding your personas, empathizing with their challenges, and providing helpful solutions to those challenges through meaningful content.
3. Audit your existing website content.
Developing an effective content plan is not exclusive to just creating new content, but rather it's important to understand how to maximize content already in place. It's likely your website already has information regarding open houses, important admission dates, and school events. Auditing this content helps align your website with the overall goal of a marketing plan. Some important questions to ask about current content includes:
Is it addressing your persona's challenges and providing solutions to those challenges?
What stage of the buyer's journey does this content fit into?
Ultimately a content audit involves assessing your content and event-based priorities. Aligning your content within the stages of your prospect's journey is a critical step to establishing your website as a high ranking authoritative resource.
4. Identify gaps.
Once you audit your existing content, it's important to identify and understand gaps. These gaps should not be seen as barriers, but rather as opportunities to help your website grow. It should be noted that regardless of the simplicity or complication of a gap, all are important when it comes to improving content.
Common gaps may include:
Out-of-date headlines or offers
Insufficient keywords
A lack of CTAs or proper offers taking readers to the "next step"
By identifying gaps, your website can become more user and SEO friendly. Ultimately, identifying gaps is about understanding your target audience and creating content to provide solutions to their challenges.
5. Develop a plan to close the gaps.
Once you've identified your gaps, it's important to close them. However, a proper plan is needed to effectively close gaps in a timely fashion. For instance, if your content needs optimizing through better keywords, can you implement the proper keyword research? What about a CTA? Do you have the necessary tools to create one? Is your site in need of an e-book? Can you create one?
These are just a few questions to ask when developing a plan to close content gaps. Below are a few tips to remember when closing content gaps.
Creating Effective CTAs
Your article or website page should be designed to firstly provide a solution to a prospect's pain point. From there, a well-placed CTA can offer more insight into a solution while establishing your site as a valuable reference for readers. Actions can include downloading an e-book, registering for an open house, or signing up for a newsletter.
A CTA showcasing a reference guide, such as a checklist for prospective parents/students when attending an open house or admissions interview can have a profound impact on your school's marketing campaign.
Remember, a call-to-action simply involves creating incentive for the reader to do something. Establishing proper CTAs helps guide website visitors through their journey to ultimately—in this case—attend your school.
Keyword Research
It's been said before, but nowadays, parents and students are in complete control of the school selection process. With that, it's a near universal truth that before your prospects ever attend an open house or admissions tour, they've conducted extensive research about your school.
That's why conducting keyword research to optimize content and close gaps is critical when developing a content plan.
Analyze your current blog posts—what are the featured keywords? Are they head terms or long-tail keywords? The distinction between the two simply involves overall keyword length, however, it's generally easy to rank higher for long-tail keywords.
Implementing long-tail keywords is important, but you should also analyze what the competition is doing as well. SEO Minion is a helpful tool you can use to analyze top ranking content from competitors. Not only does this tool provide a quick snapshot of what keywords are used in an article, but also provides insightful metadata that can provide clarity into some basic, but essential SEO tactics.
Furthermore, it's important to evaluate keywords for the creation of future content. You can utilize future content by evaluating top ranking keywords or use those top ranking keywords to optimize your current content as well.
Topic Clusters
When it comes to gathering related content under one resource, topic clusters are essential. Topic clusters offer a comprehensive look at a specific subject while maintaining a valuable resource for readers, all on one website.
Take, for example, the need to improve a child's willingness to complete homework. The main goal of the parent in this case is clear, however, there are several strategies, elements, and methods to achieving that goal. A topic cluster provides a comprehensive "umbrella" view pertaining to the many aspects of a central, broad topic—in this case focusing on homework.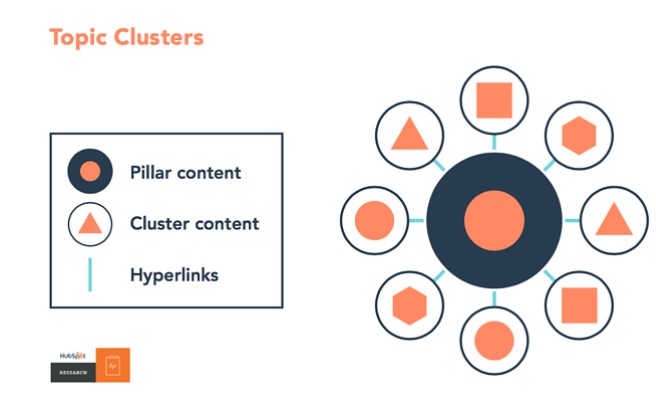 Image via HubSpot
By creating topic clusters, you identify a number of possibilities for relevant, meaningful content. In turn, this not only establishes your site as a ranking authority figure, but also bridges potential gaps in your content that may have previously been overlooked.
6. Develop your content plan.
The center of the inbound methodology is about empathizing with your prospects in an educational, less intrusive way.
Content plans exemplify this concept by facilitating prospects through their journey to ultimately choose the right school. When it comes to developing your school's long term content plan, employing the proper services to assist in your efforts can have a profound impact on achieving your goals.
Ultimately, content planning involves understanding your audience and the challenges they face throughout their journey. By setting SMART goals, auditing the marketing assets already in place, and closing any gaps to help facilitate your persona's path, your content plan will be well equipped to serve your audience and ultimately grow traffic to your school's website.