50 Blog Topic Ideas for Colleges and Universities
It's no secret that the role of content in higher education marketing is significant. Maintaining a healthy blog is an effective way to drive qualified traffic to your website, capture more inquiries or prospects, and ultimately convert more prospective students into applicants.
Note: This article was originally published on the Pepperland Marketing Blog, and has been republished here with permission.
When it comes to planning whole campaigns and individual blog topics, it can be helpful to gather some inspiration. To help you get started, here are:
50 blog topics for colleges and universities to spark your creativity
Additional bonus topics, too!
If you're just getting started with blogging and inbound marketing for your college or university, you may be overwhelmed with the amount of content that you'll need to create. Writing a blog post or two or three a week is a great way to begin ranking for search terms and attracting visitors to your website, but it's also easy to run out of ideas. (And it's kind of hard to write blog posts if you don't have any more ideas, isn't it?)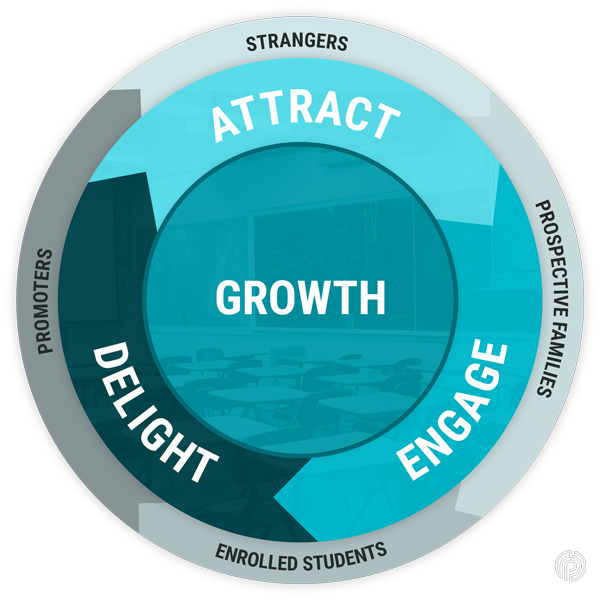 When the idea well runs dry, it can be a big draw on productivity and motivation. After all, a good blog topic and title are what you need to attract your prospective students to your site. But what's a higher ed marketer to do when they honestly can't think of any topics to write about?
While we always suggest researching and developing student personas ahead of time to help you better understand your audience and create a cohesive content strategy, it can also be a great way to uncover blog topics that prospective students will find interesting. As you go through this exercise or revisit your past persona research, for example, look for any common questions, pain points, or goals your persona has that you can address with a blog post.
Even with this exercise, it can be helpful to gather some inspiration. Below are 50 blog title examples that your admissions or enrollment marketing team can use to jumpstart your content efforts the next time you run out of ideas or need a kick in the right direction.
Note: This article is for those looking for ways to market their school to prospective students, donors, and alumni. It is not intended to be a list of ideas for student bloggers. If you're a student looking to generate blog ideas, we recommend reading this post.
While we hope these blog post ideas will help trigger some great ideas for your college or university, please keep in mind that search engines don't like duplicate content. These blog titles are meant to be inspiration for your own content creation efforts, not word-for-word titles. Make sure that you tweak them as necessary so that your content stands out from your competition.
Blog Post Ideas for College Admissions Blogs
XX Facts to Know Before Applying to [UNIVERSITY or PROGRAM]
XX FAQs for an Admissions Counselor
XX Secrets College Admissions Teams Don't Want You to Know
XX Pros and Cons of Online Degree Programs
XX College Admissions Essay Writing Tips
XX Tips for Choosing the Best Fit College
College Application Mistakes to Avoid
How to Pick the Right College: XX Steps
Nail your College Interview in XX Steps
Don't Do This at your College Interview
XX Tips for Grad School Applicants
Aligning Your Future Career Path to a Grad School Degree
Pros and Cons of Taking a Gap Year Between High School and College
The Incoming College Freshman Summer Checklist
XX Ways to Impress the College Admissions Team
Extracurricular Activities that Impress Admissions Teams (and Which to Avoid)
Use Your Desired Major to Choose the Right School
Questions to Ask on a College Tour
When is the right time to tour college campuses?
Turning Your Favorite Hobby Into an Attractive Extracurricular Activity
What Not to Do on a College Tour
Choose Your College Major in XX Steps
What's a Minor, and Do I Need to Declare One?
Matching Job Titles to Humanities Degrees
Declaring the Right Minor for Your Career Path
College Clubs: XX Things for the Freshman to Consider
XX Financial Aid Options to Make College Affordable
Everything You Need to Know About Transferring Your College Credits
XX Ways to Prepare for Your Freshman Year
Use Social Media to Help, Not Hurt, Your College Admission
XX Things I Wish I Knew Before Choosing my Current School
How Scholarships Affect Financial Aid
What are Federal Grants and Do You Have to Pay Them Back?
The Difference Between Public and Private Scholarships
The College Search: Why Choose Private Over Public
High School Senior? Here are XX Universities You Should Be Following on Social
Admitted, But Deferred: Why Universities Ask You to Start in January
XX Reasons to Take Internship Credits
Graduate Early Without Overloading Yourself With Classes: XX Steps
Going out of State: XX Reasons to Leave Home for School
XX Reasons to Go to a Small College
XX Reasons to Go to a Large University
XX Places to Travel Before College
Liberal Arts vs. Research University: Choosing What's Right Based on Major
Do I Have to Stick With it? Advice from XX People Who Changed Their Majors After Freshman Year
Take Summer Courses Without Ruining Your Entire Break
XX Steps to Avoiding Credits that Don't Count
Taking College Credits in High School: Cut Undergrad Costs While Learning the Ropes
XX Tips for Working Full Time While in School
Making Connections: XX Ways to Align Your Part-Time Job With Your Major
Bonus: 10 Blog Post Ideas To Promote Your Degree Programs
Is a [Degree Type] in [Focus Area] Worth the Time and Investment?
How to Pursue a Degree in [Focus Area] While Working without Burning Out
[Degree 1] vs [Degree 2]: Pros, Cons and Considerations
Top Paying Emerging Careers in [Degree Field]
How To Get A [Degree Type] in [Focus Area] without [Common Requirement]
XX Things You Can Do with a Degree in [Focus Area]
How to Increase Salary in [Career Field]
XX Jobs You Can Only Get with a Degree in [Focus Area]
XX Top Paying Companies in [Metro Area] for [Job Title]
XX Reasons Why You Should Get A Degree in [Focus Area]
Exhaustive Doesn't Need to be Exhausting!
Phew! There you have it. 60 blog title ideas for higher education that you can use as inspiration in your own blogging efforts. Share this list with your team and collaborate to identify which titles would work best in each stage of your prospective students' journey towards enrollment. Or, use these titles simply as brainstorming material to put an original spin on some great content.
Once you have an initial list, you can take it a step further by conducting keyword research, reviewing your analytics data, and surveying your prospective students and admissions team to validate your ideas.
At its heart, your content strategy should provide value to your website visitors while building relationships with prospective students. What are the common questions, concerns, goals, and opportunities are prospective students considering as they compare schools and evaluate your offerings? This should become the guiding light for your content editorial strategy.