11 Reasons Schools Should Use HubSpot
More than 86,000 customers in over 120 countries use HubSpot's software, services, and support to transform the way they attract, engage, and delight customers. But as a platform that was originally built for small and mid-sized businesses, can it meet the unique needs of private and independent schools?
Note: This article was originally published on the Pepperland Marketing Blog, and has been republished here with permission.
In our view, the answer is undoubtedly yes.
HubSpot is now used by a large and growing number of private schools like Proctor Academy, which used HubSpot to increase applications by 40%, and higher education institutions like USC which used the platform and inbound marketing strategies to reduce recruiting costs by 85%.
In this article I'll share my top 11 reasons that I believe K12 schools and higher education institutions should consider HubSpot, as well as many specific ways different key roles within a school might benefit.
Why should private schools use HubSpot?
HubSpot helps private and independent schools attract higher quality traffic to their website, convert that website traffic into prospective students, and nurture those prospective students into applicants.
It has been ranked as the #1 platform for marketers on G2 for two years in a row (2019 & 2020)—above popular tools like HootSuite, SEMrush, and SproutSocial—and has turnkey integrations with about every tool a marketer might need in 2020 and beyond. Through APIs and a little help from the right partner, it's also possible to integrate directly with the commonly used student information systems like Veracross and SchoolAdmin.
Having worked with dozens of schools and universities in support of their admissions and enrollment goals, I believe it is the absolute best inbound marketing tool an educational institution can use.
While the platform is widely used and valued by many marketers, it's helpful to think about what has changed over the past ten years or so to truly appreciate the role of inbound marketing and tools like HubSpot.
Prospective students and their parents now rely on the internet as a primary source of research, rendering traditional marketing efforts like direct mail, radio, TV, and print ads less effective.
Fortunately, tools like HubSpot and the inbound enrollment methodology can help marketing and admission staff alike to attract and convert prospective students in the most cost effective way possible.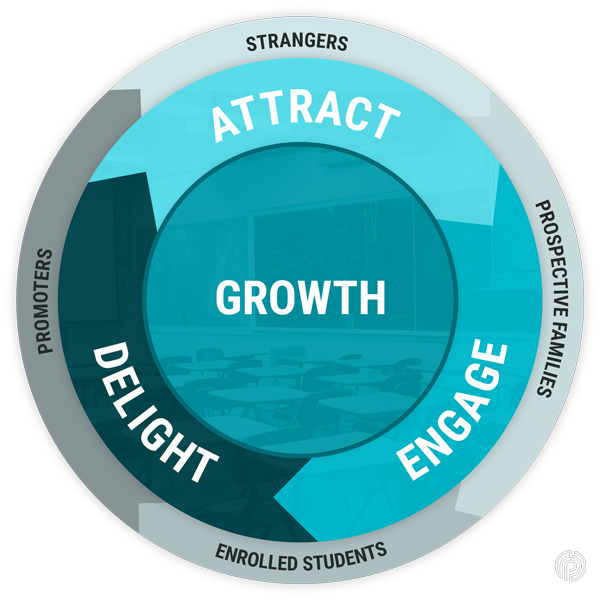 Whether your annual enrollment is 100 or 100,000 HubSpot is the right platform to help fill seats and keep them returning year after year.
Those in Marketing and Communications can reach more people in your local community. They can use HubSpot's content creation tools to create, distribute and promote SEO-friendly blog content that educates and engages prospective families, improves your rankings in local search results and strengthens your school's social media presence.
They will be able to identify more families who may be thinking about your school, but aren't ready to inquire, visit, or apply by encouraging them to subscribe to your HubSpot-hosted newsletter or by inviting them to download a free guide through a HubSpot-built landing page and conversion funnel. When they're ready to make their decision, they'll be able to nurture them through the school visit and application process with automated drip email campaigns.
Using HubSpot's social media listening, publishing, and analytics tools, they'll know exactly what current families and the greater community is saying about your school, and will be able to schedule out a full week's worth of social posts in a single hour, giving them back valuable time to focus on other marketing and communications tasks.
Admissions teams and professionals can quickly reply and engage with the high-quality inquiries being captured from your HubSpot landing pages and inquiry forms. They'll be able to dive-in to their unique interests and motivations by exploring the great level of detail HubSpot provides with each and every contact—from the pages they viewed on your website to their engagement with your school's email marketing and social media channels.
Without leaving the app, they'll be able to call and email prospects directly from a contact record, automatically logging the email and any replies without any manual data entry. They'll be able to take notes and collaborate with others on their team by leaving comments on a contact's timeline, and use email templates and documents to share your school's value proposition and nurture relationships with prospective families.
Teachers, coaches, and school administrators can log notes and regular communication with parents on a record that's shared by the Admissions team and administration, allowing your team to quickly spot and handle retention risks as well as promoters who should be asked to join your school ambassador team. Chatbots help your school provide instant answers to some of the most common questions current families ask, such as fee schedules, hours, or policy related information.
Your IT Teams and technology administrators will love the ever-growing list of native integrations available on the HubSpot platform, from video conferencing software like Zoom, to regular communication and collaboration apps like G Suite for Education. The depth and flexibility of HubSpot's API will allow them to bridge connections between SIS platforms and other systems used by the school.
What are some ways schools benefit from HubSpot?
Tactically, HubSpot's platform is unmatched in streamlining the daily tasks required to attract mission-appropriate families to your website, convert anonymous visitors into inquiries, and nurture inquiries into applicants. These tactics translate to meaningful, tangible benefits that are likely closely aligned with your school's top priorities and strategic objectives. Below are eleven of the top ways your school might benefit.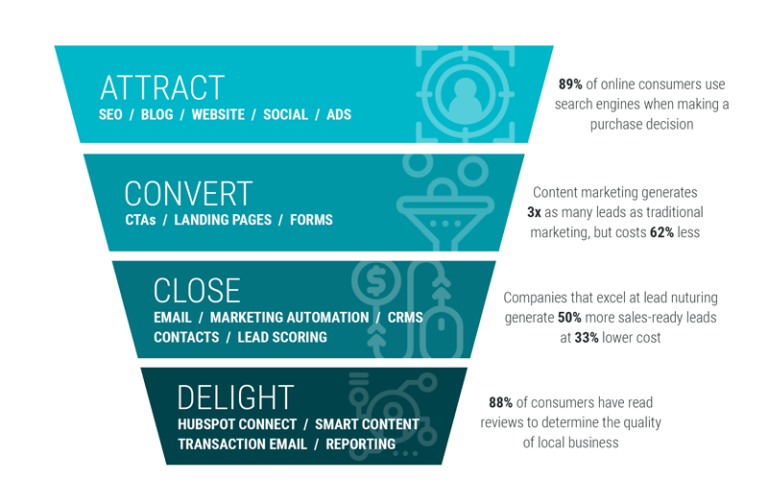 1. Increase website traffic from local, good-fit families.
HubSpot's SEO and Blogging tools help you create content that answers the most pressing questions prospective parents and their children have about life at your school, navigating difficult social, emotional, and academic challenges, as well as how best to prepare for the application and admission process.
This content helps you to boost your presence in local search results, while social publishing and advertising tools help you share this content with prospective families on social networks like Facebook,Instagram, and Linkedin and engage in the conversations it triggers.
2. Convert anonymous website visitors to leads.
Using Facebook Lead Ads you'll quickly capture inquiries from parents of mission-appropriate students and be able to enroll them in an automated email drip campaign using HubSpot's marketing automation workflows.
The drag-and-drop page builder will allow you to easily spin up fully branded, mobile-friendly landing pages that can be used to promote virtual open houses and on-campus admissions events.
Using the Call-to-Action tool, Chatbots, and pop-up forms, you'll be able to make sure every website visitor has a clear and easy way to engage with your school, helping you to identify much of the anonymous visitors that come to your school's website each and every day.
3. Better qualify inquiries for Admissions.
Progressive profiling lets you gather important information about your prospective students and their families over time, allowing you to shorten inquiry forms and dramatically improve your form conversion rates.
Persona tools help you segment your database by those who are a strong fit, a moderate fit, and a poor fit, helping you to prioritize your efforts around those you wish to recruit.
By automatically logging communications, you'll know exactly where a conversation was left off in case you need to step in for a team member who is home sick or out on vacation, and you'll be able to more effectively engage with prospective families as a team.
4. Nurture relationships with parents/students who aren't ready to apply yet.
With automated email campaigns, lead scoring, and lifecycle stage progression, you can let automated programs nurture families who are still in the earliest stages of their research process, allowing admissions teams to focus their efforts on inquiries who are closest to applying while increasing the families who ultimately choose to apply to your school.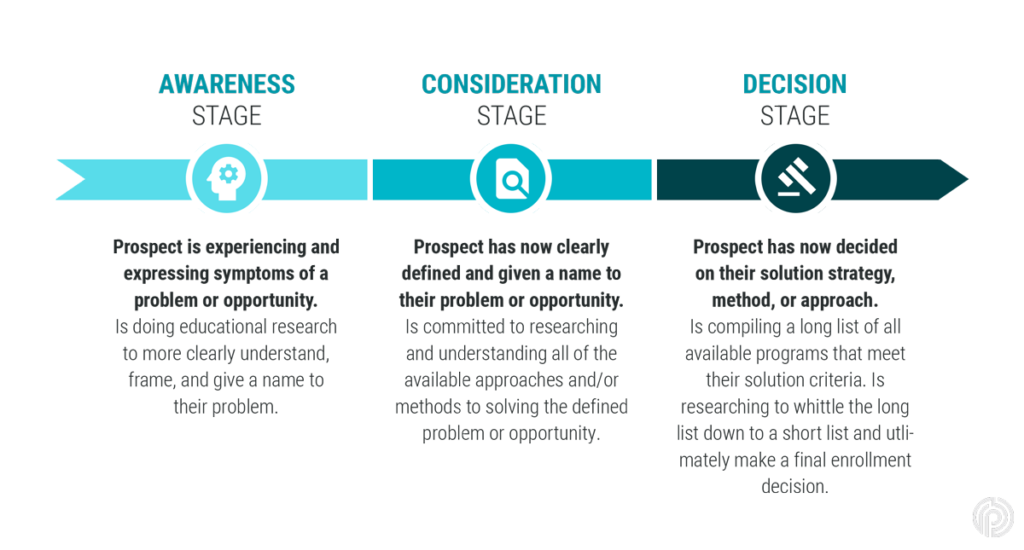 Each email can deliver resources that address a family's most commonly asked questions, while at the same time sharing information about your school's unique value proposition, the portrait of a graduate, and compelling stories from currently enrolled students and their parents and successful alumni.
5. Learn more about prospective families and their interests.
The activity timeline that appears on each and every record tells you how someone found the website, exactly what pages they viewed, what lead magnets they might have engaged with, and which events they've attended.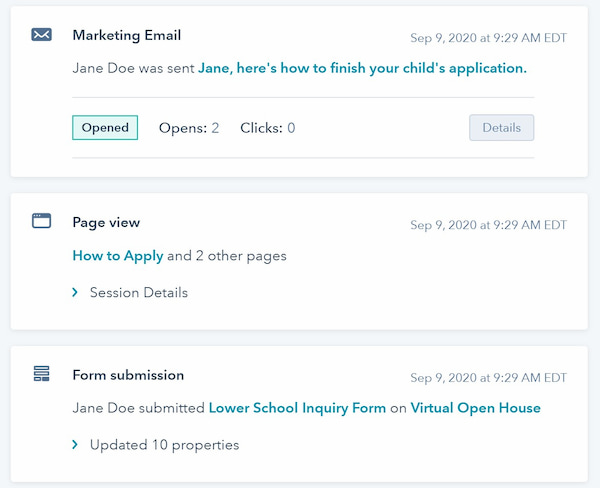 6. Connect quickly, improving inquiry response time.
Whether responding to a family through a personalized, 1-1 email or delivering an automated message from the school, HubSpot's tools make communication quick and easy.
Chatbots can be used to provide instant answers to commonly asked questions during non-school hours, while automated email responses can help to assure parents that their inquiry has been received and will be responded to.
HubSpot's Inbox feature lets you engage directly with incoming messages via email and on social media from a single place.
The mobile app makes all of this possible to manage while on the go, whether it's from your office at school, or at home on your couch in the evening.
7. Educate prospective families.
As we shared earlier, automated emails allow you to share the most important and compelling information about your school. But sometimes parents want very specific information that might not be relevant to the majority. Using if/then branching, Smart Content and personalization tokens, you'll be able to tailor your communications to the unique needs of each and every family.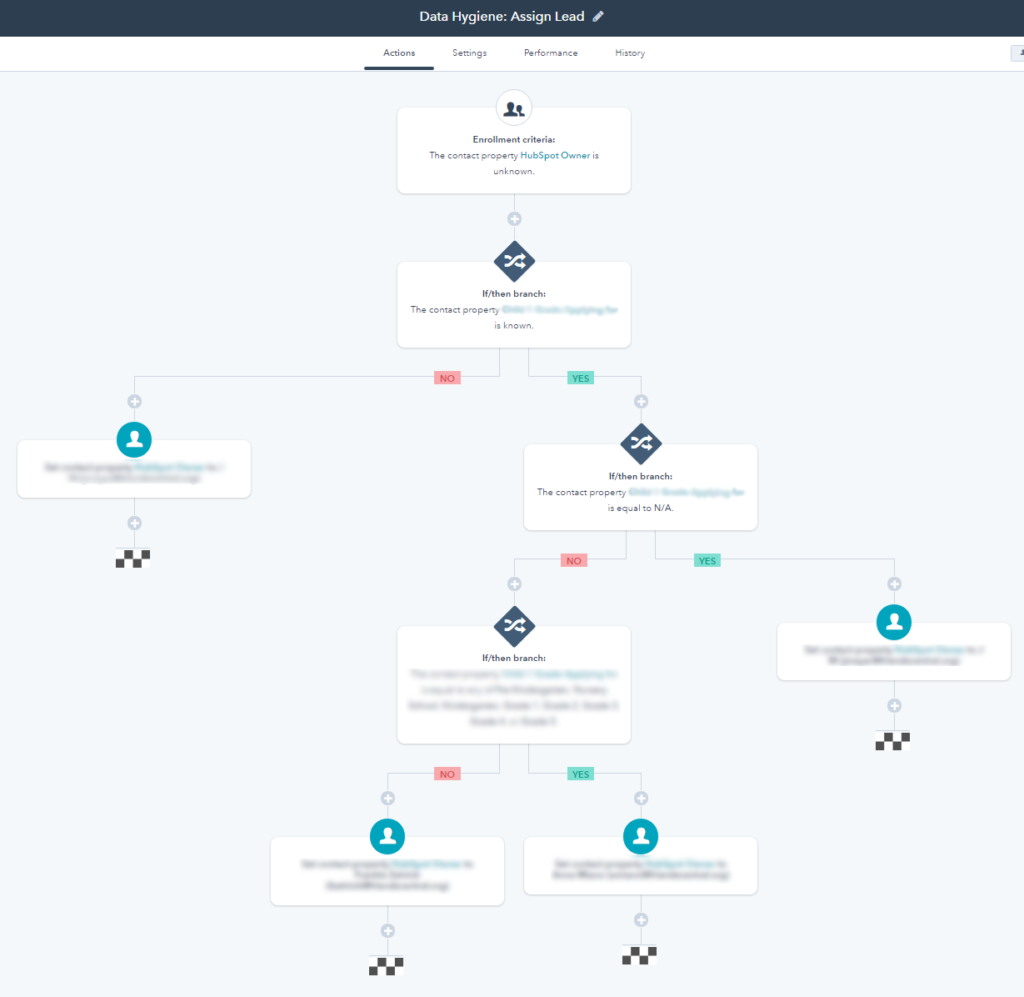 For those closer to enrollment and requiring a more personalized touch, email templates will allow you to have pre-written scripts that can be used by those in Admissions to provide quick, 1-1 responses to just about any question that might come their way.
8. Increase retention.
The same inbound marketing strategies and tactics enrollment marketers use to attract good-fit students and families for their initial enrollment can be used to ensure a successful first year and beyond.
Once a student becomes deposited, consider enrolling them in an email workflow that outlines what their first few days and weeks will look like.
Three to six months in, use HubSpot to assign a task to their admission counselor to check in with the parents and the child's teacher to gauge their happiness with their decision and to uncover any concerns so that they can be quickly addressed.
At the same time, it is possible to use HubSpot to track which pages on your school's website a student or parent is visiting (and how frequently they are visiting it). Occasionally, this can offer an insight into families who are at risk of leaving the school—for example, if they are suddenly visiting a page about financial aid after years of not seeking aid.
9. Deliver exceptional support and service to parents.
HubSpot's optional ServiceHub allows you to create a centralized support and ticketing system for the parents at your school. With a shared support inbox, you can automatically create and assign tickets to members of your IT team or whoever is tasked with a reply based on the nature and category of a question.
This activity is logged on a contact record, making any and all concerns a family expresses readily available to admissions, helping them to quickly identify and address retention risks.
10. Gather community feedback.
With the optional ServiceHub, you'll be able to easily launch opinion polls on your website or via email. You might want to ask them about the pick-up/drop-off process, or the effectiveness of teacher to parent communication. Regularly surveying and polling the current school community, or the extended community of prospective families, can help you refine and optimize your communications and protocols.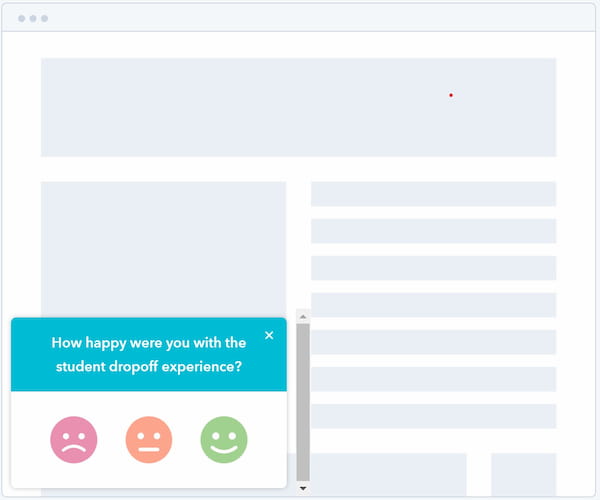 With HubSpot's sophisticated audience targeting you can ensure only the people you want to see the survey see it. With this advanced targeting, an unknown prospective family could see one poll while the parent of an enrolled student might see another.
11. Engage with your school ambassadors.
Many parents at your school would gladly recommend your school to a friend or family member considering a new school for their child, but might lack the tools, language and content to do so successfully. Using HubSpot's tools you can easily develop a program that makes this incredibly easy for parents.
Start by identifying your true ambassadors. Regular Net Promoter Score email surveys will help you identify your promoters, as well as your detractors. Those who identify themselves as promoters can be invited to join your ambassador program.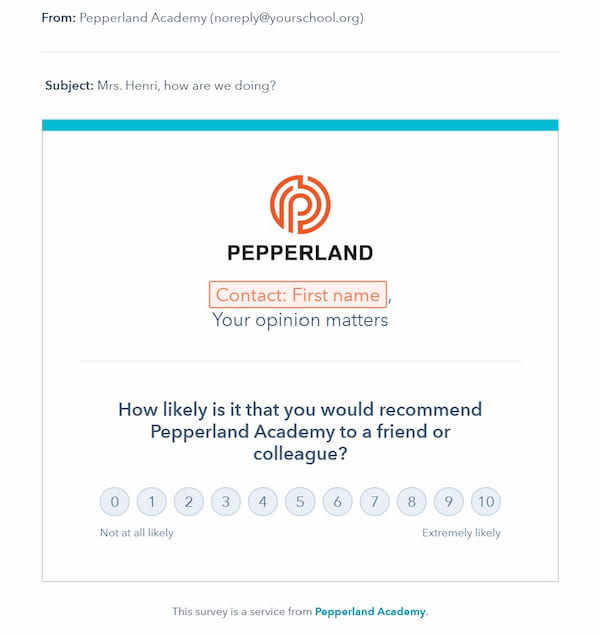 Once enrolled, you can share new content published to your admissions blog and encourage them to share on Facebook and Pinterest.
This email could also include links to recently published content on Facebook and Instagram that they could comment on and share, dramatically boosting your school's social media engagement and reach.
With HubSot's easy to use analytics tools, you can easily measure the effectiveness and impact of this program. You'll be able to see exactly how many families inquired and enrolled as a result of this program, and with a little bit of planning, be able to determine which of your ambassadors was most effective at recommending your school.
Bonus: Share dashboards and data with school leadership and your Board of Directors.
HubSpot's tracking script allows you to track the progression of a parent's engagement with your school—from their initial visit to your website through acceptance and beyond.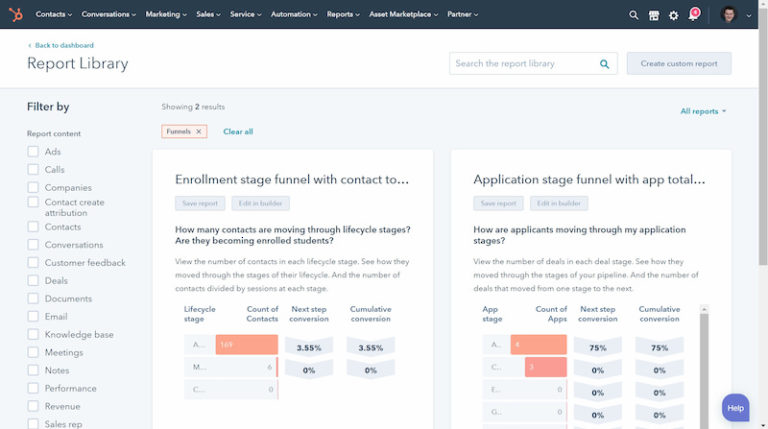 This allows you to measure and analyze the effectiveness of your admissions funnel like never before. You'll know exactly which marketing channels were most effective at capturing inquiries that actually enroll, and whether or not tacts like Facebook Ads are providing a positive ROI.
By reviewing your conversion rates, you'll be able to accurately share exactly how many inquiries you need to capture to provide admissions with the volume of applications they require, and how much website traffic you'll need to generate to meet those goals. This makes it much easier to make the case for budget increases or the adoption of new tools or technology.
HubSpot grows with you. You can even start for free.
While larger schools might easily afford and be able to justify HubSpot's full suite of tools given the impact it will play on admissions and enrollment, smaller schools might not have the budget to bring on technology costing $800+ a month.
That's where HubSpot's free and Starter tools come in. With HubSpot Marketing Free, you can quickly spin up effective Facebook Ads, a branded landing page, and trigger automatically sent follow-up emails to promote an upcoming Open House or virtual admissions event.
With up to 2,000 free emails a month, you can easily begin to have a significant impact on the health of your admissions funnel in a short period of time. As your efforts grow in their sophistication, you can gradually increase how you leverage HubSpot's many tools and features.
Ultimately, HubSpot helps you streamline communication and engagement with families at each and every stage of their relationship with your school. It is the single best suite of tools school marketers should consider for their digital marketing efforts.
Have you found success with HubSpot at your school? We want to know about it! Share your experience in the comments below!