Tips for Conducting a Virtual Graduation
Due to the Covid-19 pandemic, schools must rethink how they conduct annual events, such as award ceremonies and graduation.
Note: This article was originally published on the Pepperland Marketing Blog, and has been republished here with permission.
As a result, many are wondering: How can we adjust to create a memorable, enjoyable, and meaningful virtual experience for students and families? Below, we highlight some key tips to keep in mind for your school's planning.
Among these tips are:
Choosing the right equipment
Finding the proper streaming platform
Personalizing the experience for each graduate
Whether it's the spring, summer, or fall semester, conducting a graduation ceremony at semester's end is an essential part of each school's calendar of events.
Even during an unpredictable year like 2020 where remote learning, zoom sessions, and virtual presentations have become the "new normal", it's important to produce a memorable and enjoyable ceremony for your graduates, as they take the next steps in their lives.
Not sure where to start? Follow the the tips listed in this guide to launch your virtual graduation ceremony!
3 Tips for Seamlessly Conducting a Virtual Graduation Ceremony
1. Choose the Right Equipment
Let's start with the basics. A camera, whether it's a webcam or standard video camera is absolutely essential to conducting a virtual graduation. For most K-12 Independent schools, a camera will be necessary to record or livestream speakers. Below are some options to choose ranging from budget friendly, to high end.
Genius WideCam F100 (Full HD Conference Webcam)
With dual microphones and a wide angle lense that can be shot in 1080p, the Genius WideCam is an excellent resource for virtual recordings.
If your school needs several speakers to gain access to a webcam, this product can help with a clear, wide picture that fits into virtually any budget. A manual focus also allows for a personalized view for users.
Logitech Brio Webcam
For schools looking to purchase a higher resolution camera for speakers and presenters, the Logitech Brio webcam is an excellent choice. The 2160p resolution features 4K recording, which produces a clear, high definition picture.
For schools looking to gain easier access to their streaming devices, the Logitech Brio Webcam is compatible with Windows Hello. This allows for a more personalized, secure, and convenient experience with facial recognition for Windows 10 users.
Canon XA30 Professional Camcorder
If your budget allows for an "all-out" high quality recording experience, then look no further than the Canon XA30 Camcorder. A 1920×1080 recording offers a full high definition professional picture.
If your setup includes an external microphone, then the Canon XA30 would work best. That's because it includes XLR inputs, which not only allows for microphone access, but also allows accessibility to a sound board or mixer.
Note: This camera should only be used with a tripod or stand and should not be used as a hand-held only device.
Find an Encoder
Before you begin streaming content to a live audience, you'll need a digital path to send your recording data and information to a streaming service. That's where encoder software comes into play.
Essentially, a streaming encoder takes content from a camera and converts it into a digital format for streaming services to use.
Generally speaking, there are two methods of encoder software to consider as well.
Software vs Hardware Encoder: Which should you choose?
For K-12 independent schools, the best course of action might be to go with a software encoder. That's because these platforms can be used with a computing device, such as a standard laptop or desktop. Some software encoding services to consider include:
OBS Studio: Used by streamers worldwide, OBS Studio is free and compatible with Windows, Mac, or Linux. The platform allows a number of configuration options along with unlimited scenes to transition between camera views.
Wirecast: Users can start a free trial with Wirecast, but afterwards prices start at $599. The benefit to Wirecast is that it offers an all-in-one platform to film, produce, and stream events live. The paid service also includes thousands of media files for backgrounds, music, and videos to maximize your streaming for audiences worldwide.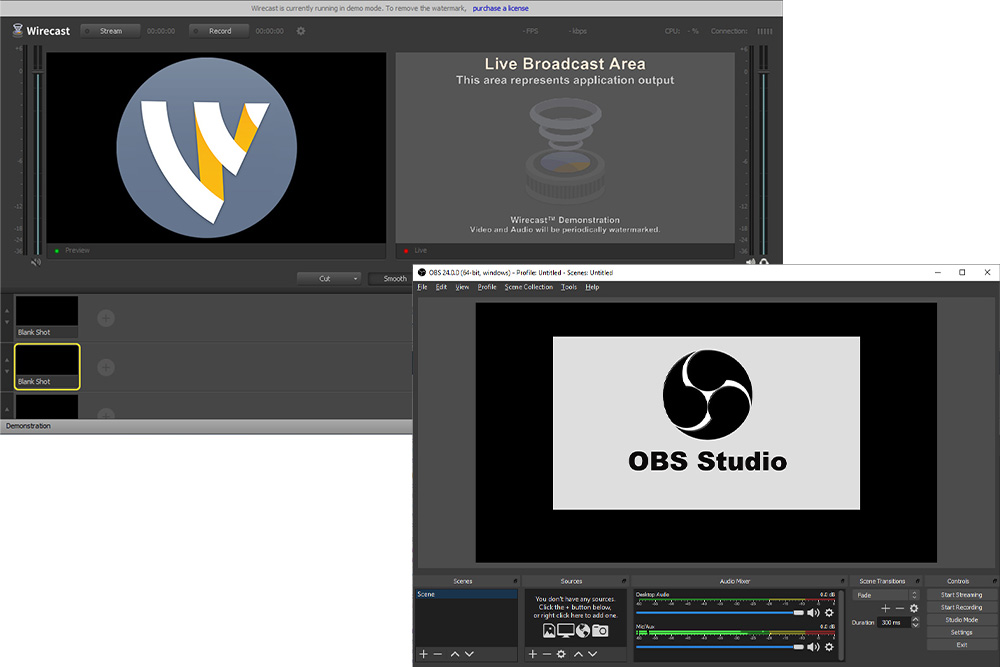 Conversely, hardware encoders are more permanent fixtures that are mostly used by professional streaming services and companies. Using an algorithm to encode data, these platforms come with a much higher price point than software encoders.
The benefit with hardware encoders is they are much faster and smoother than software encoders. Given the price and expertise required to operate hardware encoders, it's a solid idea for schools to only use them when outsourcing a streaming service to record and film live events.
2. Choose a Reliable Streaming Platform
Now that you have an understanding of the camera and encoding software needed to launch a virtual graduation, it's time to select the right streaming platform. This will allow your recording to become accessible for an internet audience.
There is a wide variety of streaming platforms to choose from, including options like Zoom, YouTube Live, Facebook Live, Instagram Live, and so on.
Before selecting a streaming platform, it's important to ask a few questions regarding the logistics of your virtual graduation. Be sure to consider:
Audience Size: How large is your graduating class? How many family members or other guests do you expect to tune in? Are you prepared to host a live stream with the capacity to handle thousands of participants? Answering this question will allow your school to gain an understanding of what exactly is needed to ensure your virtual graduation will be accessible for each student's family and friends.
Security: For school administrators and board members considering a virtual graduation, it's understandable to be concerned with hackers and information breaches. Especially for larger schools, the prospect of opening your server to such a large audience can seem overwhelming. When choosing your streaming platform, make sure you evaluate the security measures available to you to find one that suits your needs.
Virtual Graduation Ceremonies with Zoom
Given the current climate and recent trends, Zoom has increasingly become a necessity for nearly every business, school, and service.
Zoom is beneficial for schools looking to conduct a virtual graduation because it allows large groups to actively participate in a live stream with minimal setup. In addition to accommodating a large number of active participants, Zoom also has a seamless integration with other websites like Facebook and YouTube.
With this integration, Zoom sessions can be broadcasted live on Facebook or YouTube. This means thousands of friends and relatives can watch a virtual graduation from their phone, laptop, or tablet. And, sites like Facebook and YouTube can archive streams for viewers to enjoy at a later date.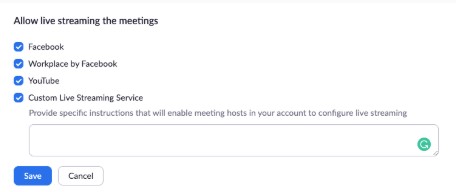 Zoom makes all this possible with an easy to use, accessible platform. Similar to their recent integration with HubSpot, which provides an excellent all-in-one webinar setup, Zoom helps schools by providing a safe and secure stream with:
Specialized License: The Webinar License allows for 1,000 participants to partake in a stream at the same time. However, this number can increase as needed to accommodate schools with larger classes and faculty that exceed 1,000 participants.
Host Control: Zoom allows webinar hosts to have full, autonomous control over the stream. This is beneficial not only for producing and directing a stream, but also for providing an added layer of security. With this type control, webinar hosts can avoid "Zoom bombing" or other would-be hackers looking to obtain information.
Password Protection: Unlike a common virtual meeting, Zoom's webinar license requires each user to login to the stream with an individual, unique password. This one-time password creates a more secure setup than a standard webinar that has a single password, which can be shared or accessed by countless IP addresses and users. This form of security is similar to an event ticket; it can be transferred from one person to another (for example, from a graduating student to a family member), but is only valid for a single use.
Ultimately, with password protections and special licenses provided by Zoom, school officials can feel confident about hosting such a large event that celebrates the Class of 2020 in the best possible way.
3. Plan and Personalize your Graduation
Prerecord Portions of your Ceremony
In order to expedite the planning process for your graduation, pre recording specific segments of the ceremony can save your school time and resources.
And, given that most schools will be conducting a graduation that's exclusively available through virtual access, any pre-planning that can help alleviate stress should absolutely be pursued. Below are just a few ideas associated with prerecording portions of the ceremony, but their importance in making the virtual ceremony feel authentic cannot be overstated.
Speeches: Common addresses given during a graduation ceremony by the valedictorian or keynote speaker can apply here. By playing a pre-recorded speech, your production and IT teams can save time both before and during a ceremony. Simply put, it's easier to press "Play" on a streaming platform during a virtual ceremony, rather than cut to a separate live camera for a speech where more things, such as Internet connectivity and audio/visual quality could potentially go wrong.
Honoring Graduates: A common question for administrators facing remote graduations has centered honoring graduates. How will a virtual ceremony display the excitement of "walking across the stage" for a diploma? Getting creative with some prerecording can help. For instance, ask each student to record themselves "moving the tassel" on their cap. When their name is called, schools can play that video and provide a graphic of a diploma with their name on it during the ceremony as well.
Tossing Caps: Speaking of graduation traditions, perhaps one of the most exciting is the final moment when graduates toss their caps at the ceremony's end. Much like the "move the tassel" idea, students can submit a video of themselves tossing a cap to play at the end of the ceremony. With some creative editing, a short montage can pay homage to the tradition.
Share a Social Message
Social media is a powerful tool for schools to utilize in nearly every aspect of their operations and activities. The same can be said for virtual graduations.
Schools can feature congratulatory social messages from family and friends, which could be placed on a scrolling social media tracker during the ceremony. Establishing an event-specific hashtag could help filter messages to celebrate the Class of 2020 too.
Additionally, customizing photo filters for students and families to share on Snapchat and Instagram can help personalize your virtual graduation in a special, creative way.
Create a Slideshow
In general, slideshow presentations are used in most graduations in some capacity. Whether they're projected onto a screen, or run as background-filler between certain portions of the ceremony, slideshows are a great tool to use.
Here are a few elements to consider when creating a slideshow:
Photo Gallery: Photos submitted by teachers, parents, and administrators can showcase fun and memorable moments from the Class of 2020.
Shoutouts: Congratulatory messages from family and friends to students is a great way to get guests involved in the virtual graduation ceremony.
Student Profiles: Another way for parents, coaches, and administrators to collaborate in the virtual graduation planning process is to create a profile for each graduating student. These profiles could include photos, athletic/academic awards, yearbook quotes, or list each student's aspirations for their careers.
Use Your Resources
Ultimately, the personalization aspect of a virtual graduation is about giving administrators, parents, and faculty the opportunity to incorporate their creative ideas to the ceremony. That's why it's important to use the resources at your disposal so that you can focus more on the personalization aspect of graduation, rather than the logistics.
For example, many schools are already partnered with companies like Jostens and Herff Jones for yearbooks, caps and gowns, and class rings. During this unprecedented time, many companies like this have quickly reacted to face the changing needs of the schools they service, and several have started to offer solutions for virtual graduation ceremonies.
Given the expertise these companies have in all things graduation, they specialize in helping schools step up a virtual experience that's both accessible and easy to use.
Some of the details provided with these services include:
Slideshow Templates
Music
Graduation Microsites
Companies like Jostens, for instance, have created resource centers offering free slideshow templates, graphics, and music, as well as Zoom Webinar licenses to their partnered schools. If your school is already partnered with a company for traditional graduation needs, be sure to explore how they've reacted to the situation and utilize the resources they offer.
Plan your Virtual Graduation
Due to the global Covid-19 pandemic, school administrators and faculty have worked tirelessly to find new and create ways to engage students with remote learning. This work, along with the countless hours spent by students to achieve a degree should not go unnoticed—it should be celebrated!
A virtual graduation aims to do that with helpful resources and creative tools. And, even though many schools are using these materials for the first time, that doesn't mean the ceremony should be any less meaningful.
Graduations should not only celebrate the accomplishments of students, but also thank the parents, teachers, and coaches for their guidance and leadership over the years. A virtual graduation allows administrators to tailor an experience that does just that. By following the tips mentioned above, your school can plan a virtual ceremony that is both special and memorable regardless of where viewers are tuning in.
Subscribe to the Enrollment Marketer newsletter to receive helpful articles and resources right in your inbox that will help you learn about and stay on top of the world of enrollment management and marketing.