8 Virtual School Tour Examples
Similar to test driving a car, or viewing a house, a school's campus tour can provide comfort and confidence for prospective students where they feel the most "at-home." That's why campus tours are one of, if not the most important selling points for enrollment marketers.
Note: This article was originally published on the Pepperland Marketing Blog, and has been republished here with permission.
However, the recent shift to remote work and distance learning has complicated the entire admissions process. Especially for schools entering their peak yield period with admission counselors seeking to finalize as many deposits as possible, the need for cost-effective innovation is at an all time high. That's why schools are placing a much larger emphasis on virtual tours.
Especially for independent schools offering K-12 classes and higher education institutions, the need for immersive virtual tours is critical for success. Below, we've identified eight examples of effective virtual tours and break them down into three categories:
Budget Friendly
Mid Tier
High Quality
Check out these examples to enhance your school's virtual tour, or to implement a new tour that best aligns with your school's marketing strategy and enrollment goals.
Budget-Friendly Examples
Contrary to popular belief, virtual tours can be used by all schools, regardless of their endowment or class size.
If you're working with limited time and resources, some cost-effective tools for developing a solid virtual tour could include:
Google Slide Presentations
Photo albums on Facebook Gallery
Screen sharing via webinar software
Admissions counselors can utilize these tools to provide valuable and interactive experiences. Here, we've provided some examples of schools maximizing these resources to deliver an effective virtual platform for prospective families.
1. Sewickley Academy
Located just outside of Pittsburgh, PA, Sewickley Academy offers a unique set of materials for prospective students and families. The student's journey is a key component of their virtual resources, which aligns with other inbound-focused content from Sewickley Academy as well.
In particular, their virtual school page provides several resources for both current and prospective families. These resources include virtual school parent testimonials, school student projects, and a comprehensive reopening of school plan, which includes two click-through guides and a link to FAQs as well.
The virtual experience also includes a clickable map with pins highlighting key points on campus. Each pin showcases photos of the facility along with a write-up describing the building's function, history, and influence.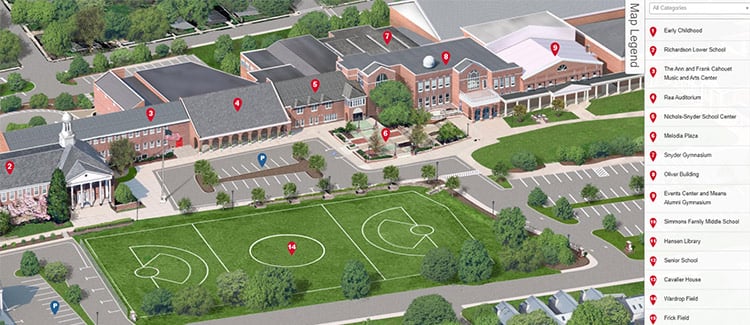 From helpful links, FAQs, a click-through guide, and parent testimonials, Sewickley Academy provides an excellent list of resources that highlights the social, cultural, and educational aspects of life on campus.
2. Taft
An independent school in Watertown, CT, Taft has a number of virtual resources for prospective students and families to reference in their search for the "right-fit" school.
Specifically, Taft provides an admissions video that highlights school activities, facilities, and buildings. They also provide a comprehensive list of information on their virtual visit page.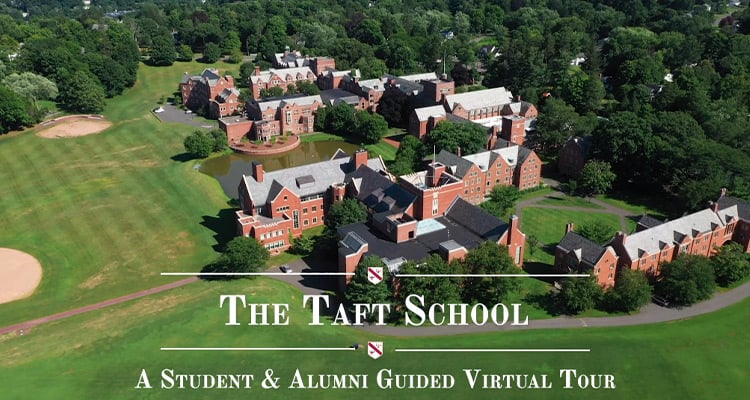 From photo galleries, to student interviews, and social links, the virtual visit page gives admissions counselors an invaluable resource to reference when speaking with prospective families about daily student life at Taft. Ultimately, all of these resources help to guide and facilitate prospective students and their families as they progress through their journey to select the right-fit school.
Mid-Tier
For schools looking to make an investment into a more interactive virtual tour, there are several resources available.
Most notably, schools and businesses alike have used Google's Street View technology to enhance their presence online. This software uses panoramic photos to give users a unique 360 degree perspective, which for the purposes of a virtual tour, allows users to feel as though they're actually on campus.
With this format, admissions counselors can showcase life on campus through immersive and visual storytelling. Here are some examples of schools using this software to help potential students in their search for the right fit school.
3. Choate Rosemary Hall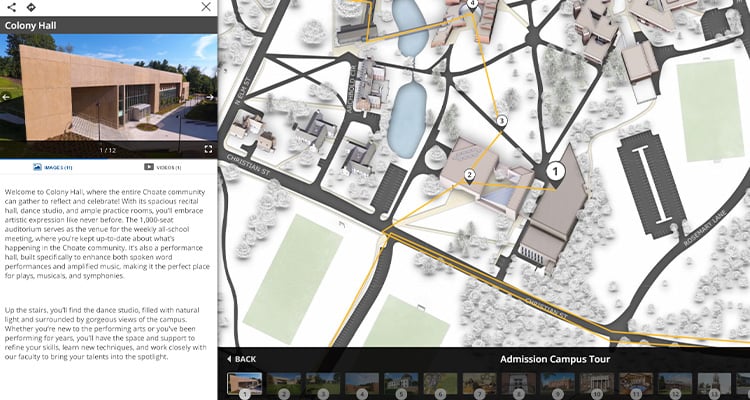 An independent school in Wallingford, CT, Choate Rosemary Hall offers a unique look at their facilities. Listed under the admissions page, Choate offers virtual tour information through an interactive map.
A key factor for this map is that it not only offers an interactive "maps view" with clickable pins for key campus buildings, but also offers a write-up and "mini-tour" video for each building as well.
A listing of thumbnail previews are also placed at the bottom of the screen, which further enhances each user's tour experience.
Along with the mini-tour videos, Choate also offers several photos in a slideshow format above descriptive text for each specific location on the tour. Overall, Choate's virtual tour offers prospective students and families an interactive and valuable resource to learn more about their school.
4. Milton Academy
Milton Academy is an independent prep school located just outside of Boston in the town of Milton. Their admissions page offers a number of remote resources for prospective students and families, such as a welcome video, Instagram feed, and links to virtual events.
Towards the bottom of the page, visitors will notice an option to take a virtual tour, which links to an immersive, click-through tour.
As seen in the screenshot above, Milton Academy's interactive tour allows prospective students to learn about each building on campus, all within the click of a button. Each section of the tour offers detailed information about the specific building with a short video overview in the top left of the screen. These informative videos are hosted by current students as well.
This virtual tour is informative and interactive, which allows prospective students and families to learn more about the school at their own pace.
5. Oxford University
With a click-through tour experience, England's famous Oxford University uses a similar format found in companies using Google My Business street-view photography.
A comprehensive list of tours is available for prospective students to click through and view immersive photos of Oxford's dining halls, administrative buildings, dorms, and student life centers.
The click-through street view option is particularly popular with schools and businesses because it provides a high-quality, immersive tour for viewers, but at a reasonable installation price for marketers.
6. Salve Regina University
With a beautiful campus located near the shores of Rhode Island, Salve Regina showcases their facilities with a high-quality 360 campus tour.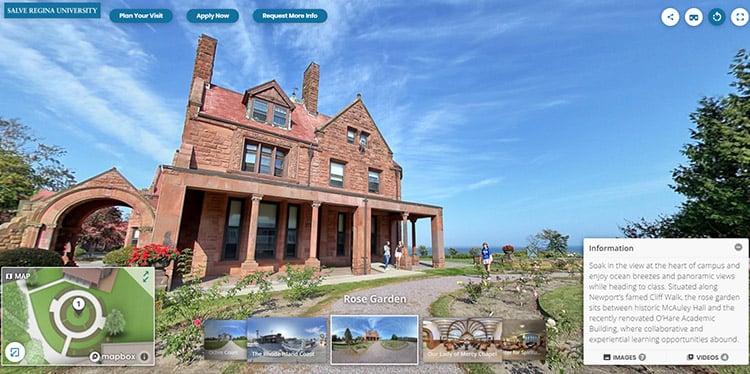 The interactive platform showcases panoramic views of 15 different spots across campus, which includes a small library of videos and images for each location as well. These resources highlight quick facts about campus life, the student experience, and more.
This comprehensive tour gives admissions counselors a great resource to utilize when speaking with prospective students. And, by using a 360 interactive tour, prospective students and their families can enjoy an immersive experience of life at Salve Regina.
High-End
For schools looking to create a virtual tour that's fully immersive, there are several resources available for enrollment marketers.
Below, we've highlighted two universities that show just how excellent and innovative a virtual school tour can be when maximizing the resources necessary to achieve such a large and comprehensive platform.
7. Kean University
Located in New Jersey, Kean University has several interactive tools for virtual tours. In particular, Kean utilizes virtual reality to provide prospective students with a comprehensive 360 view of campus.
In addition to providing two campus tour videos — one as a standard campus tour and another as an interactive video tour — prospective students can request their own pair of virtual reality goggles for a fully comprehensive experience. This particular tour is also offered in standard definition with an interactive map providing 360 degree views of campus.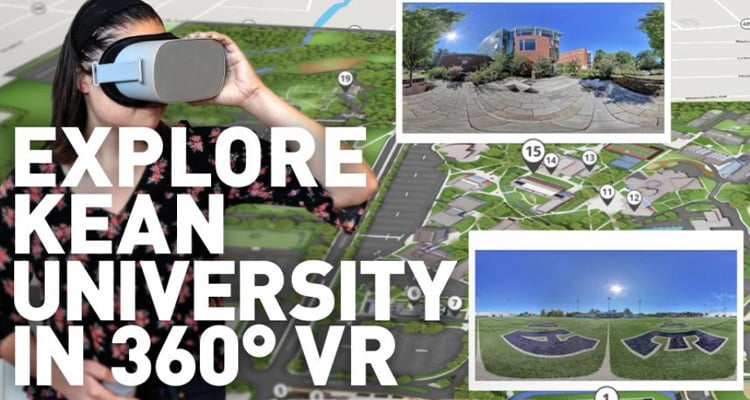 With these tools, admissions counselors at Kean can offer prospective students and families with a fully immersive, and quite frankly, unparalleled virtual experience.
8. Kent State University
Kent State University takes the virtual tour experience to the next level by integrating an interactive click-through map with virtual reality and 360 panoramic views.
Utilizing VR software compatible with smartphones and VR headsets, prospective students can view points of interest on campus in a truly immersive way. A virtual host guides viewers through each tour landmark, providing useful information and highlights for each.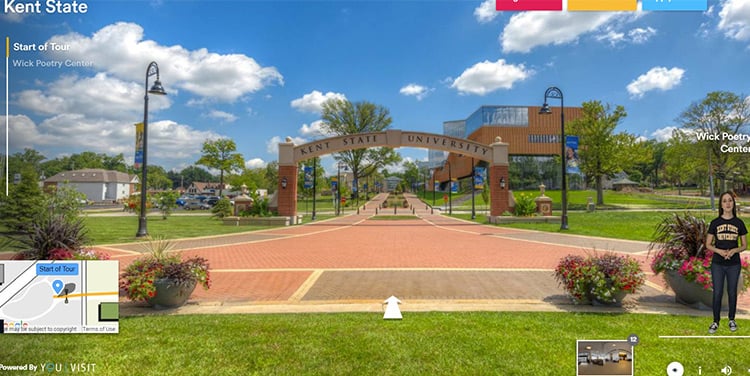 For prospective students seeking insight from current students and faculty, Kent State provides a video library of information as well.
Overall, Kent State provides a truly comprehensive and immersive virtual tour experience for users to enjoy while gathering valuable information for their school search.
Maximize Virtual Tours for your Prospective Students
As you can see, there are a number of options when it comes to finding the right tour for your school. Moreover, these examples prove that an effective tour doesn't require a massive sacrifice of time or resources.
Regardless of your budget or aspirations for your virtual tour, it's important to remember your student's journey when selecting the right school. Find out what makes your school unique and align those characteristics within your virtual tour to develop a story arc for prospective students and their families.
Subscribe to the Enrollment Marketer newsletter to receive helpful articles and resources right in your inbox that will help you learn about and stay on top of the world of enrollment management and marketing.